Jump to Recipe
I recently realised how easy it is to make shito using an African kitchen's staple ingredient and I just had to share this with you. Shito (Ghana hot pepper sauce) is very popular in Ghanaian cuisine, that is eaten as a sauce or condiment. In the UK, it is usually sold pre-packed in jars at African shops, but it is so easy to make at home.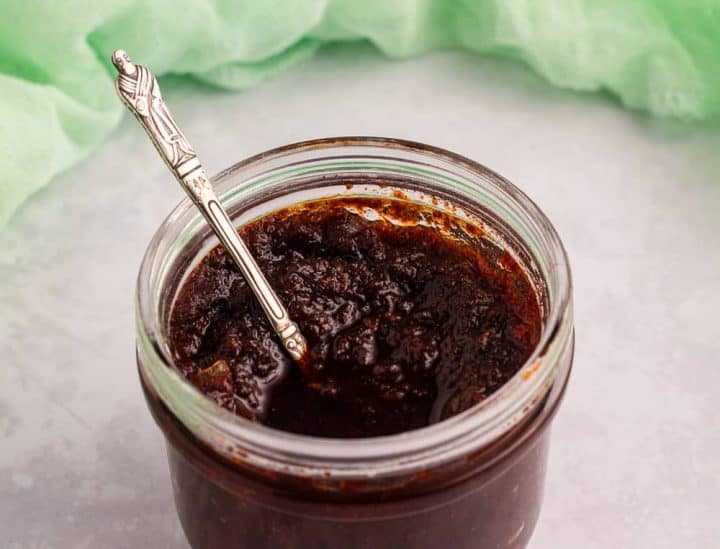 Shito is a delicious hot pepper sauce prepared with dried fish and prawns along with onions, chilli, garlic, and some spices. This dark coloured Ghanaian sauce has a rich umami taste which just makes everything taste better.
Ghana shito is a very versatile. In the local Ghanaian cuisine, it is used in ways similar to a chilli sauce or ketchup. It can be used as a side, dip or even dressing. It is traditionally eaten with kenkey, waakye, banku and many other Ghanaian dishes. However, it tastes amazing spread on bread, in a stir-fry or salad, stirred into pasta; on barbecue meat, fish or vegetables; anything really.
This Ghanaian sauce is rich and aromatic, with intense flavours; so, a little of it goes a long way to enhance food. It is a good way to eat flavoursome food on the cheap. I was thinking back to my student days and how shito sauce would have been useful for when I was broke! If only I knew about it then.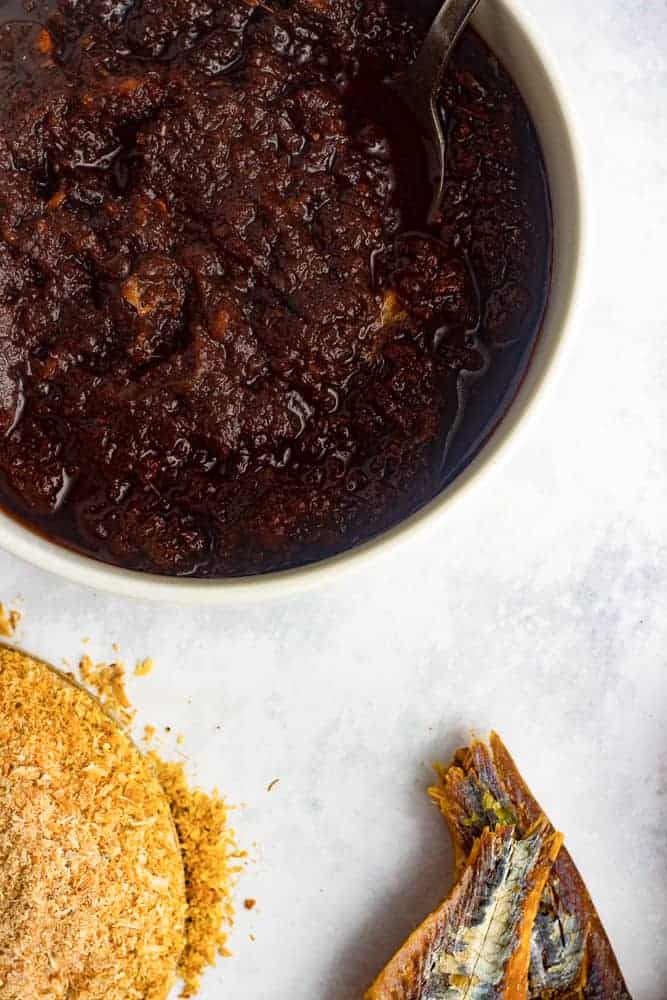 How Long Will Ghana Shito Last
Water is not added to shito sauce blend; and the sauce is simmered in oil which allows the moisture to dissipate as the sauce thickens. This makes the water activity so low that the product could be kept at ambient temperature for some time and will last weeks in the fridge.
If you are keeping at ambient temperature, it is important for the sauce to have a layer of oil totally covering it. This is a traditional method of food preservation in Africa which was used before electricity and refrigeration.
How To Make Shito
Ghana Shito is traditionally very hot; hence why it is called Ghana hot sauce. However, you can make it to your preferred heat level by varying the chilli quantity. Mine is medium hot so everyone in my family can eat it, but you can add more or less chilli depending on preference.
I made this recipe with things I already had in my freezer and pantry, and didn't have to do any shopping. This is the reason why I used green scotch bonnet. You can substitute red scotch bonnet or any other hot pepper for this recipe.
It is important to stir the sauce often while cooking to prevent burning. In fact, a non-stick pot (if you have one) is better for this type of thick sauce.
If you do not normally use dried fish and ground shrimp in their cooking, you can find some to buy in Asian and African shops.
Try these Ghanaian dishes next, Kelewele and Gari fotor.
Other versatile sauces you should try are chimichurri and chermoula.
Ghana Shito
Delicious, hot sauce from Ghana which also serves as a condiment. Shito makes everything taste better!
Ingredients
1 ½

cups

Vegetable oil

3

pieces

Onions

medium, peeled and sliced

4

cloves

Garlic

peeled and cut into smaller pieces

5

cm

Ginger root

(½ a thumb size)

2

Scotch bonnet

stalk removed

2

tablespoons

Tomato puree

½

cup

Dried fish pieces

1

tablespoon

Chili flakes/powder

½

cup

Ground shrimp

1

teaspoon

Ground cloves

Salt

to taste
Instructions
Cut the dried fish into smaller pieces, while removing the bones. Wash and soak in some water just before you start cooking. This will make it easy to blend later.

Heat oil in a pan (use a non-stick pan if you have one) under medium heat.

Add the onions into the oil. Stir until the onion slices are translucent, and just beginning to brown. This will take 10-15 mins.

Remove from heat and allow to cool. In that time, drain the fish and pour into a blender. Prepare the scotch bonnet and garlic. Add into the blender with the tomato puree and ginger root.

Add the onion and the oil into the blender and puree. Pour the blended mixture back into the pot and place on low heat.

Add the dried shrimp, pepper flakes, cloves and a dash of salt.

Allow to simmer gently, while stirring frequently to prevent burning. If it the sauce appears dry, you can add more oil.

The colour will change gradually and by the time the sauce is done, it will be quite dark. This will take around 20 mins.

Allow to cool and keep in a closed container. Refrigerate and use as needed.
Video
Nutrition
Calories:
275
kcal
Carbohydrates:
4
g
Protein:
5
g
Fat:
28
g
Saturated Fat:
22
g
Cholesterol:
58
mg
Sodium:
191
mg
Potassium:
94
mg
Fiber:
1
g
Sugar:
1
g
Vitamin A:
227
IU
Vitamin C:
5
mg
Calcium:
33
mg
Iron:
1
mg