Jump to Recipe
Looking for a Nigerian snack? Air fryer beef suya is a scrumptious snack/finger food for when you just want a treat or when you are hosting. It is super easy to prepare and very delicious; just great for the holiday period when everyone is at home and there's a lot of grazing happening.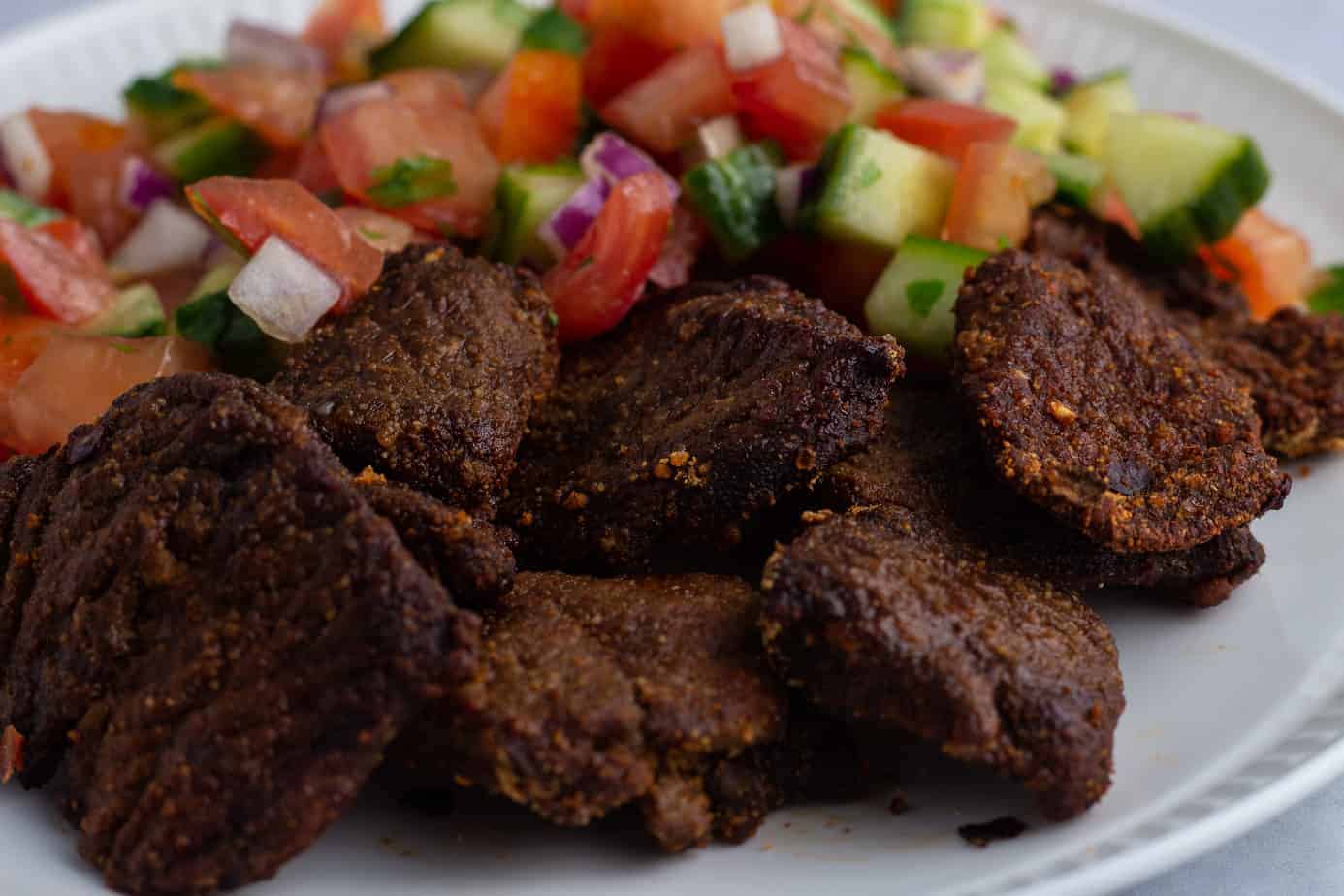 Suya is skewered and grilled meat pieces; which would have been marinated in ground kulikuli (kulikuli is deep fried peanut paste, which is eaten as a snack) with a blend of other spices. The suya meat is prepared on open grills and served with tomato and onions. It is a very popular street food in Nigeria.
This well seasoned air fryer beef suya is the easiest Nigerian snack ever! It cooks in only 15 mins. The air fryer crisps and browns the meat slightly , such that it looks and tastes like the suya prepared on open grills.
I always make my own suya spice mix; I found the taste is closer to the real thing than the ones I've bought in the past. It is very easy to make as long as you can get peanut butter powder. This post has more information about the suya spice ingredients, if you are interested. Keep left-over suya spice in an air-tight jar and it will last for months.
The suya spice is very versatile and shouldn't just be used on meats. Watermelon salad and Suya prawns stir-fry are recipes which use the suya spice mix in a non-traditional way.
How To Make Air Fryer Beef Suya
It is important to choose a tender cut of meat without connective tissues for air fryer beef suya recipe. You can use other meat types – goat meat, mutton or even chicken breast all work very well with suya spice.
Finally, don't overcrowd the air fryer. Place the beef slices in one layer to allow even cooking.
Cosori air fryer has good functionalities and will be good for this suya recipe.
Air Fryer Beef Suya
Delicious air fryer beef suya (spicy peanut beef) is a perfect snack to enjoy on your own or when you are entertaining.
Ingredients
4

Tablespoons

Peanut butter powder

3

Tablespoons

Paprika

2

Tablespoons

Ginger powder

1

Tablespoon

Garlic powder

1

Tablespoon

Onion powder

1

Teaspoon

Nutmeg

1

Tablespoon

Chilli flakes

250

g

Beef

Salt

to taste
Instructions
Make suya spice by mixing the peanut butter powder, paprika, ginger, garlic, onion, nutmeg and chilli powder in a bowl.

Cut the beef into thin slices.

Pour in a bowl and toss in three tablespoons of suya spice with some salt. Make sure all the meat pieces are covered.

Switch on the air-fryer and set to 160 °C.

Place the meat pieces on the tray in a single layer and close.

After 10 mins, the meat should be cooked and will be starting to dry out. Add a sprinkle of the suya spice over the beef pieces.

Leave for another 5 mins.

Remove from the air fryer.
Nutrition
Calories:
195
kcal
Carbohydrates:
5
g
Protein:
12
g
Fat:
14
g
Saturated Fat:
6
g
Cholesterol:
44
mg
Sodium:
43
mg
Potassium:
321
mg
Fiber:
2
g
Sugar:
1
g
Vitamin A:
1872
IU
Calcium:
15
mg
Iron:
3
mg