Githeri is a corn and bean one pot meal which originated from the Kikuyu tribe of Kenya. It is also known as muthere or mutheri. It is traditionally prepared with dry beans and corn, however, to prepare this amazingly delicious recipe, I used canned beans and frozen corn for ease and convenience; so, it is perfect for those times when you need to whip something healthy up quickly.
This meal is very popular in Kenya and there is a funny story about the "Githeri man". During the last elections in Kenya, "Githeri man" was spotted eating githeri from a transparent plastic bag absentmindedly; while waiting on a queue to vote. He became an overnight internet sensation and provided some comic relief in that period as he was photoshopped into pictures of popular movies and celebrities.
Githeri is similar to many one-pot beans and corn combinations, which are a staple dish in in many parts of Africa; with slight variations in additional ingredients and spices. It is known as "adalu" in the part of Nigerian that I come from; there is "makande" in Tanzania; and "cornchaff" in Cameroon. It was interesting to learn that Githeri was one of the main meals fed to secondary students in boarding schools in Kenya because "beans and corn" was one of the main meals in the boarding school that I attended in Nigeria too.
One of the reasons for the popularity of beans and corn combination in diets worldwide is because they are both incomplete sources of amino acids. Amino acids are the building blocks of proteins. Corn protein lacks some basic amino acids which beans have; while beans lack some basic amino acids, which corn have; hence why they complement each other well.
How to Prepare Githeri
Githeri is quite adaptable, you can use any type of beans to prepare the meal. You can also add any vegetable or spices that you like, to make it yours. I particularly like the combination of curry powder and paprika because they work well together to give a pleasurable taste and aroma which is not too overwhelming.
I hope you like this Githeri recipe as much as I did.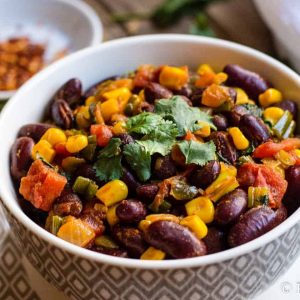 Githeri
This quick way to prepare githeri, using canned beans and frozen sweetcorn saves on time, but tastes so amazing.
Ingredients
1

tablespoon

Oil

1

Onion

medium chopped

2

cloves

Garlic

chopped

½

teaspoon

Curry powder

1

teaspoon

Smoked paprika

¼

teaspoon

Chilli

ground

1

can

Red kidney beans

drained and rinsed

1

cup

Frozen sweet corn

½

can

Chopped tomatoes

Salt

to taste

3

stalks

Spring onions

chopped

Chopped Coriander

a few sprigs chopped
Instructions
Heat the oil in a pot under medium heat.

Cook the onions in the oil until it is soft, then add the garlic and stir for 30 seconds.

Pour in the curry powder and paprika, while stirring for another minute to prevent burning.

Pour in the beans, corn and tomatoes into the pot

Add 1 cup of water.

Add salt, cover the pot and allow to cook for about 15 mins.

Add the spring onions and leave for another minute.

Remove from heat and mix in the chopped coriander.
Nutrition