Jump to Recipe
Plantain porridge and mashed plantain recipes are quite popular within the West African region. However, as with most recipes, these vary between countries and individuals. For example, there is sese plantain or turning plantain in Cameroon. Ghanaians have their mashed plantain called "eto", and in Nigeria there is Nigerian plantain porridge.
The West African green plantain porridge is made of plantain chunks cooked in a sauce. It is different from the Haitian green plantain porridge, where it is blended and eaten as a gruel.
Cameroonian plantain porridge and Nigerian plantain are usually cooked with green plantains. I got my inspiration for this green plantain porridge with seafood recipe from both recipes. Unripe plantain is particularly suited for porridge because it is like a blank canvas. It has a bland taste and will take on the flavours of the cooking sauce/broth.
This green plantain porridge is healthy, delicious, versatile and very quick to make. It is excellent for school nights or when you need to whip up something quickly.
How To Make Green Plantain Porridge
Here are the ingredients you need...
A few notes about the ingredients
Plantain: Like the Cameroonian sese plantain and Nigerian plantain porridge, you need unripe plantain for this recipe. If you want to add some sweetness, you can use semi-ripe plantain or add a little quantity of ripe plantain. However, using only fully ripe plantain for this recipe gives a very sweet, cloying porridge, which I find unpleasant.
Green Leafy Vegetables: Use whichever green vegetables you can find. Spinach, ugwu (pumpkin leaves), kale, spring greens and chard will all work well here. If you are using spinach, add at the end of cooking.
Plantain Cut Size: This is a matter of preference. I cut mine into smaller pieces as I didn't mash the plantain. If you are looking to mash the plantain, then you can cut it into larger pieces.
Pepper Mix: This recipe is basically stewed plantain and requires a stewed mixture of some sort. I used the Nigerian pepper mix. You can either make this from scratch by pureeing 1 onion, 1 bell pepper, 2 medium-sized tomatoes and 1 scotch bonnet in a blender. Or substitute with 1 teaspoon ground pepper powder and ½ tin chopped tomatoes or tomato passata.
Red palm oil: Like a lot West African recipes, this recipe works particularly well with red palm oil. If you are not a fan of red palm oil, then use other vegetable oils.
How To Peel Green Plantain
Unripe plantain is difficult to peel because the skin doesn't separate as easily from the edible part as in ripe plantain.
To remove the skin from the plantain; start by cutting off the two ends.
Make a cut into the skin along the ridges on the plantain with a sharp knife. Try not to cut too deep into the plantain.
Use the knife to gently separate the skin from the flesh at the two ends. You can use a table knife for this.
Then, pull back the skin from the flesh, gently.
How To Make It
Peel the plantain and cut into smaller pieces
Chop the onions. Finely chop the garlic.
Heat the palm oil in a pan until it melts, do not allow to bleach. Add the onions and allow to cook for around 5 mins.
Pour in the garlic, onion powder, ginger, ground crayfish and the blended pepper mixture with some salt. Add 2 cups of water and cover the pan.
Allow to cook and for the flavours to develop. After 15 mins, the plantain should be soft, and the sauce will already start to thicken from the starch of the plantain.
Wash the kale. Remove the thick stalk in the middle and slice thinly.
Mix in the kale and the seafood. Reduce the heat and allow to cook for further 5 mins.
I prefer plantain porridge to have the appearance of a soup. If prefer a "mushy" consistency, you can mash the plantain up a little at this point.
Remove from heat.
Related Recipes
Savoury plantain pancake with prawns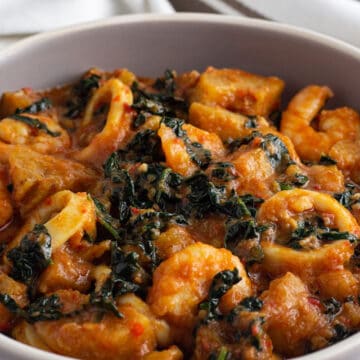 Green Plantain Porridge With Seafood
Green plantain porridge is healthy, delicious, versatile and very quick to make.
Ingredients
2

Green plantain

medium-sized

3

tablespoons

Red Palm oil

1

Onion

or 1 cup chopped

2

cloves

Garlic

1

teaspoon

Ginger powder

1

teaspoon

Onion powder

2

tablespoons

Ground crayfish

1

cup

Pepper mix

Salt

to taste

1

cup

Mixed seafood

6

leaves

Kale
Instructions
Peel the plantain and cut into smaller pieces.

Chop the onion. Finely chop the garlic.

Heat the palm oil in a pan until it melts. Do not allow to bleach.

Add the onions. Allow to cook for around 5 mins.

Pour in the garlic, onion powder, ginger powder, ground crayfish and the blended pepper mixture with some salt. Add 2 cups of water and cover the pan.

Allow to cook for 15 mins.

Wash the kale. Remove the thick stalk in the middle and slice thinly.

Mix in the kale and the seafood. Reduce the heat and allow to cook for further 5 mins. Remove from heat
Nutrition
Calories:
308
kcal
Carbohydrates:
48
g
Protein:
9
g
Fat:
12
g
Saturated Fat:
6
g
Polyunsaturated Fat:
2
g
Monounsaturated Fat:
4
g
Cholesterol:
10
mg
Sodium:
75
mg
Potassium:
1075
mg
Fiber:
5
g
Sugar:
15
g
Vitamin A:
12728
IU
Vitamin C:
128
mg
Calcium:
162
mg
Iron:
3
mg