Jump to Recipe
I will be sharing the recipe for kachumbari today. As we are getting to the last days of summer and tomato plants are giving their last set of fruits, I'm having to come up with more creative ways to use tomatoes, other than freezing it. What better way than to use up those tomatoes than this East African tomato and onion salad with flavours which come together nicely to explode in the mouth.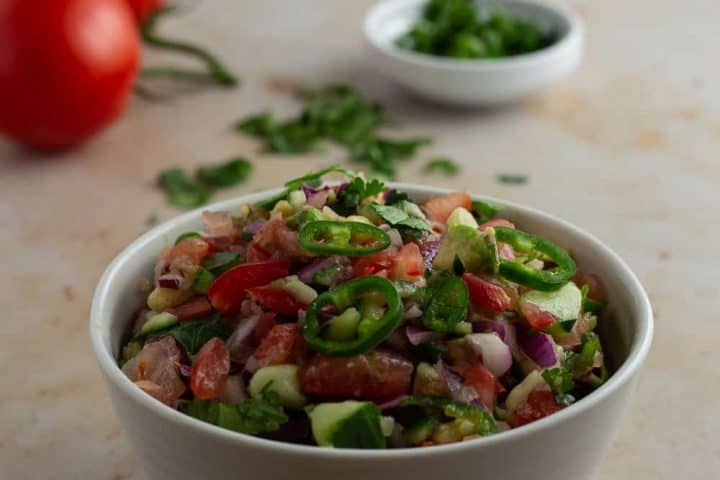 Kachumbari is a commonly eaten in East African countries like Kenya and Tanzania. Some say it is the East African twist on salsa, others call it Kenyan salad. Traditionally, kachumbari is eaten as a salad or side dish. It is usually served with ugali (a stiff cornmeal porridge), or roast meat and fish. However, this tangy Kenyan tomato and onion salad will add an amazing burst of flavour to any dish. It tastes great served with rice or as a sauce or dip for yam and potatoes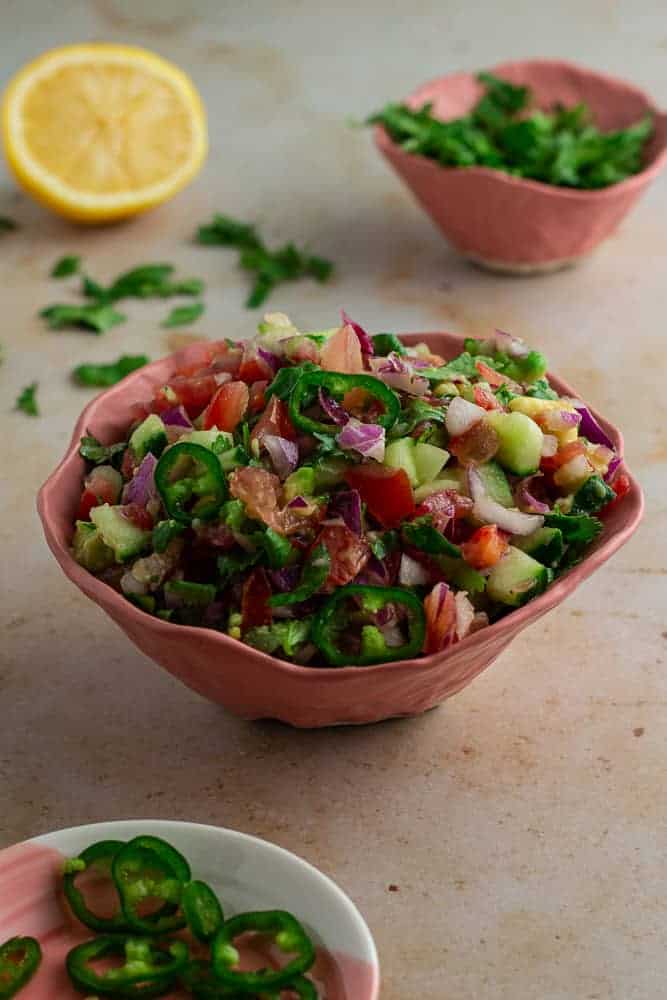 Kachumbari is so quick and easy to make; and apart from the refreshing flavours of this African salad, it is also full of healthy natural ingredients which are good for the body.
The chilli is optional, depending on personal preference.
Watermelon salad is also inspired by African flavours.
How To Make Kachumbari
African salad is full of onions, which could be quite overpowering. You can take the bite off the onions by soaking in cold water for 10 mins. I soaked the onions with lemon because the salad is tangy anyway.
At the end, I had slightly tangy, mellow onions which worked perfectly with the sweet and tangy taste of the other ingredients. You can add salt instead of lemon as it also helps mellow the strong onion taste.
I added avocado for some creaminess. Be creative and add other ingredients of your choice. Most crunchy vegetables will work well in kachumbari.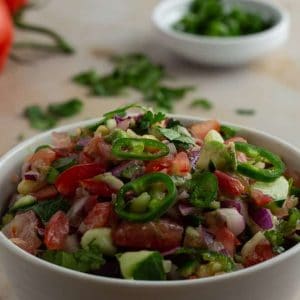 Kachumbari
Refreshing Kenyan tomato and onion salad which is bursting with flavours. It is great as a salad, side-dish or eaten on its own.
Ingredients
1

Red onion

small

3

Beef tomatoes

1

cup

Coriander

¼

Cucumber

medium

1

Avocado

small

1

Chilli

1

Lemon

big, juiced

1

Tablespoon

Extra virgin olive oil

Salt

a pinch
Instructions
Squeeze the juice from the lemon and keep aside.

Chop the onions and soak in cold water. Pour in a colander to drain after 10 mins.

Wash and chop the tomatoes, coriander, cucumber, avocado and chilli.

Add into a bowl with the chopped onions. Pour in the lemon juice, extra virgin olive oil and a pinch of salt.

Serve with your favorite dish.
Nutrition
Calories:
184
kcal
Carbohydrates:
21
g
Protein:
4
g
Fat:
12
g
Saturated Fat:
2
g
Sodium:
21
mg
Potassium:
1008
mg
Fiber:
8
g
Sugar:
10
g
Vitamin A:
2588
IU
Vitamin C:
74
mg
Calcium:
50
mg
Iron:
1
mg