In the Western African region, Dried fish is an important condiment, relished for its umami blast and used to enhance the flavours of soups, sauces, porridge, etc. It has an intense taste and aroma, which adds depth to dishes. Some of the dry fish popularly eaten within the region include stockfish (okproko, panla), bonga (shawa), adwene, agbodo and koobi.
Before the introduction of bouillon cubes to West Africa, intensely flavoured dried fish and other condiments like fermented locust beans were used to flavour food. Our taste for fish as a flavour enhancer is evident in the love for fishy condiments like shito (Ghana), and lanhouin (Benin Republic). Dried fish goes particularly well with savoury foods; and not only seasons the food but also adds texture. There is a delight when you bite into a piece of fish in soup.
Fish is an essential source of protein in the West African diet, which is also perishable. Therefore drying is used as a form of preservation, which is excellent for the region because it takes away the reliance on freezers, which is not accessible to everyone. It also makes transporting otherwise perishable goods easy in the absence of cold chain infrastructures. Dried fish is affordable and more accessible to people than fresh fish.
Drying the fish concentrates the flavours in the fish, which makes a little piece have a big impact on taste. This is one of the significant appeals of this condiment. Apart from the characteristic pungent flavours, dried fish is also a good source of good quality protein and essential nutrients.
Smoke Drying Vs Air Drying
Smoke drying and air drying are the main methods of dried fish production. Both are used as methods of preservation, sometimes in addition to salting or curing.
Smoke Drying
This is the more common method for preserving fish in the Western African region. Smoking is the process of exposing food to smoke from burning wood. The smoke gives flavour. It also helps to preserve the food by reducing the moisture content and imparting some chemicals into the food, which act as natural preservatives.
Smoke drying is different; and should not be confused with hot smoking. Hot smoked fish is usually succulent with a high moisture content. The smoking takes a few hours and will only preserve the fish for a few days. Smoked mackerel is an example of hot smoked fish.
In smoke drying, smoking is combined with drying to extend the shelf-life of the fish under ambient condition for a longer period. Here, fish is cooked and dried by smoking in the kiln for 10-18 hours under controlled temperatures. Dried smoked fish is typically hard and cannot be used without soaking in water to rehydrate.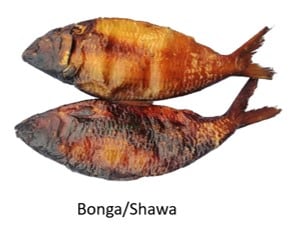 Air Drying
Air drying does not involve smoking or any form of heat. The fish is exposed to dry, cool air to reduce the moisture content. Like smoke drying, the fish is preserved by making the moisture unavailable to microbes. This method utilizes the power of the sun and wind to remove the moisture. Stockfish is an example of air-dried fish. This process is significantly longer than smoking, as it could last months in some cases. The resulting product also has a much longer shelf-life under ambient conditions. To make this method more effective, sometimes, the fish is soaked in saltwater before drying like the Ghanaian Koobe
How Dried Fish Is Used
Dried fish is used in dishes that are stewed, steamed or boiled. It usually requires some form of liquid to impart flavour to food while soaking up the liquid to become soft and tender. Most of our stews and sauces are not complete without the addition of dried fish. Check out this delicious egusi soup prepared with dried fish.
Dried fish is used in different forms in West African cooking. Sometimes the fish is rehydrated as a whole; before cooking as the main source of protein in meals. In other cases, it broken into small pieces, rehydrated and added to food as a flavour enhancer; usually combined with other condiments and protein sources.
How To Prepare Dried Fish For Use
Remove the bones and the hard skin (if necessary)
Soak in water to soften. The soaking time depends on the type of fish and the drying method.
If the fish is salted like koobi, you will need to change the water once or twice to get rid of the saltiness.
Clean the fish properly in water before adding to your cooking.