Jump to Recipe
When I was in secondary school, there was a shawarma place in one of the estates close to my school. I would save some of my lunch money over a few days to be able to afford a shawarma at lunch time (when my friends and I sneaked out of school). Fast forward to now; I still love shawarma, but no longer buy this tasty treat. I just make my own at home, which is quite convenient.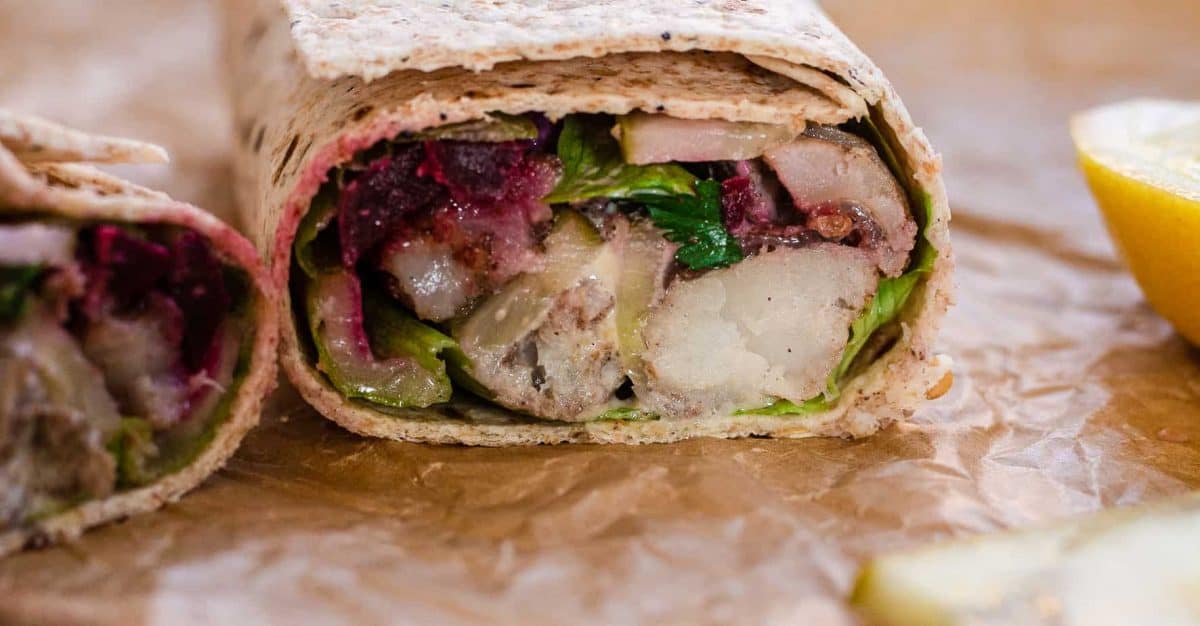 I will be sharing the recipe for my delicious fish shawarma wrap with tahini dressing and pickled vegetables, which is easy to prepare and doesn't take too long. Shawarma is typically prepared with Lebanese pickles, which are not quite as sweet as the ones in UK. I used store bought pickled beetroot and gherkins for this recipe; the tangy sweetness of the vegetables complements the savoury fish taste nicely.
Shawarma spice mix is one of the main components of this dish; and like most spice mixes, you can make your own. In fact, it is better to make your own shawarma spice mix as you can adapt it to suit your personal taste. This recipe includes a very simple spice mix, with few ingredients; but full-on flavour.
Difference Between Shawarma and Gyros
Shawarma and gyros are quite similar; they both originate from kebab but have been adapted to suit the available food and the way of living in different parts of the world.
Gyros is a Greek dish, which is usually made with pork or a combination of lamb and beef. The meat is ground, spices added, then made into a loaf. It is served as slices of meat on Greek flat bread with tomatoes, cucumbers, tzatziki and some Greek yogurt.
Shawarma, on the other hand has Mediterranean origins; and could be made with lamb, beef, chicken, turkey or even fish. It is made of cuts of marinated meat pressed together and cooked on a vertical split with a lot of fat. The meat is shaved off with a sharp knife; and served on pitta bread, wrap, sandwich or on a plate with salad. The toppings are more diverse than gyros and could include hummus, tahini, tabbouleh, pickled turnip and so on.
Is Shawarma Healthy?
As with most food is; this depends on what goes into your shawarma recipe; hence, why it is beneficial to make your own so you can decide what to add and what not to.
The shawarma sold as fast food usually include fatty cuts of meat; and as the meat is cooked on the vertical split, more fats are added. This makes it rich in saturated fats, which is not great for the health. Sometimes some of the toppings used are high in salt or fat, which is not good for the health either.
You can swap unhealthy ingredients with healthier ones in your shawarma recipe by using a cut of meat that is not fatty or replacing red meat with lean chicken or white fish. White wrap could also be replaced with brown wraps; and you can add more of your favourite vegetables and pickles.
How To Make Fish Shawarma Wrap
This shawarma recipe does not require a vertical split or a grill, simply use what you have at home already by frying in a pan or grilling in an oven. It is also quite adaptable too; just use your preferred dressings and vegetables as toppings.
Fish Shawarma Recipe
Delicious fish shawarma with tahini dressing and pickled vegetables.
Ingredients
Shawarma
2

fillets

White fish

cut into strips

Oil

1 tablespoon plus the quantity for frying

½

teaspoon

Ground cumin

½

teaspoon

Ground cinnamon

1

teaspoon

Ground coriander

1

teaspoon

Ground allspice

¼

teaspoon

Chilli flakes

Salt

to taste

2

Wraps

4

leaves

Lettuce

6

slices

Pickled gherkins

4

slices

Pickled beetroot
Tahini dressing
2

tablespoons

Tahini

1

teaspoon

Garlic powder

Salt

to taste

Water

to desired consistency

1

Lemon

squeezed
Instructions
Fish
Cut the fish fillets into strips. Place the strips in a bowl.


Pour the oil into the bowl and make sure it covers all of the fish strips.

Add all of the spices, the pepper and a dash of salt.

Mix the content of the bowl so that the fish strips are coated with the spices.

Keep the bowl in the fridge for 20 mins to allow the fish to marinate in the spices.

Pour some oil in a pan and lightly fry the fish, turning over so both sides are cooked. You can grill the fish too, if this works better for you.

Remove from heat and keep to one side with the fried vegetables.
Tahini Dressing
Add the garlic powder and lemon juice to the tahini paste in a bowl.

Add water gradually to the mixture; while whisking until you get your desired consistency.
Fish Shawarma
Assemble the fish and the vegetables on top of a wrap; then drizzle some of the tahini over.

Roll the wrap and enjoy your mail.
Notes
You can save time by making the tahini sauce and slicing vegetables; while the fish is marinating in the fridge.
If pickled vegetables are not your cup of tea, you can replace it with other vegetables.
Nutrition