Jump to Recipe
My mantra for cooking has always been "why spend hours in the kitchen when you can free up the time for something else by substituting the ingredients". This is what this recipe is about - easy gbegiri soup with canned beans, which is easy to put together without sacrificing the flavors associated with the dish.
If you like "gbegiri and ewedu", but discouraged from making it because of the multiple steps and long preparation time required to cook the gbegiri, then this is for you.
What Is Gbegiri Soup?
To start with, I must let you know that soups and stews are eaten differently in West Africa, compared to other parts of the world. Our soups and stew are not eaten on their own, they will usually accompany a bland starchy main like rice and pasta or swallow (garri, fufu, tuo, amala etc). The soup/stew provides the flavour as well as lubrication in case of swallows; and like the Indian curry complements the mains dish. If you are wondering what "swallow" is, this article explains it well.
Gbegiri is a Nigerian traditional soup, which originated from the Southwestern parts of the country. It has a light orange colour and is traditionally served with amala (yam flour swallow) or tuwo (corn or rice flour swallow); and meat or fish.
Sometime, this soup is combined with amala and ewedu (molokhia/jute soup leaf soup) to make "abula", which is the quintessential dish of Ibadan, also in Southwestern Nigeria. I find gbegiri soup quite filling and I like to eat it on its own. It makes the perfect comfort food in winter.
Traditionally, this soup is prepared either with Nigerian brown beans or black eye beans; and the preparation method includes;
Soaking the beans to soften the skin before peeling.
Cooking of the peeled beans until very soft.
Using ijabe (blending broom stick) to liquefy the beans (or just blending in a blender or food processor).
Cooking the blended beans with palm oil and traditional spices.
This recipe takes away the first two steps which are the longest so you only need to blend and cook the soup.
Gbegiri Soup Recipe
Here is what you need...
Canned beans (Haricot or black eyes beans)
Pepper flakes/ground pepper powder
Fermented locust beans (iru/dawadawa)
A few notes about ingredients...
Palm oil – You only need a little quantity of this to give the gbegiri a light orange colour.
Beans – You can substitute the haricot beans with black eyed beans or other white canned beans like cannellini.
Fermented locust beans (Iru/dawadawa) – Depending on personal preference, you can either blend this with the beans or add after blending. If you're not a big fan of this condiment, you can do without. Check out this post to learn more about fermented locust beans.
How To Make It
Drain the water from the beans and rinse under cold water in a colander.
Pour the beans in a blender or food processor with the locust beans. Add ½ cup of water and blend until smooth.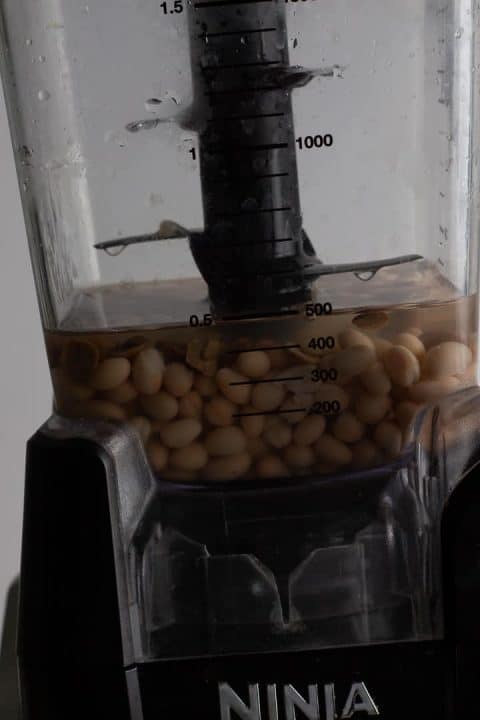 Pour into a sauce pan. Add the palm oil, ground prawns, pepper and salt. Mix and cover the pan. Reduce the heat.
Check and stir regularly to prevent sticking. If it becomes too thick, which is likely to happen; add some water to thin. It will become thicker after cooling.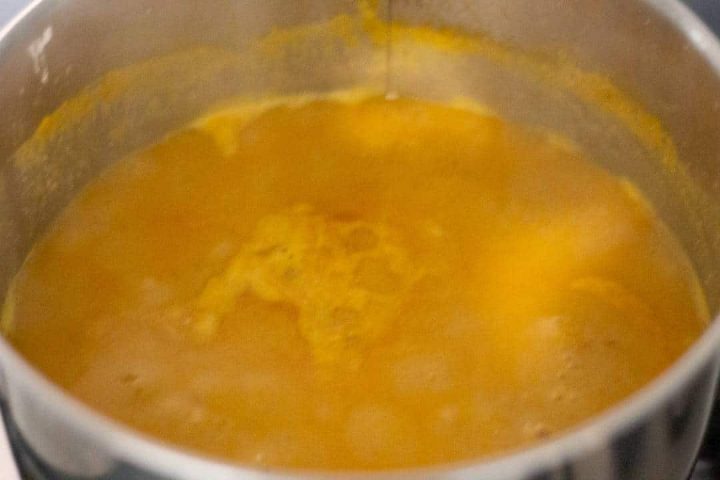 Leave until the soup is cooked. This should take around 20 mins.
Remove from heat and serve
Recipe Notes And FAQ
Can I make gbegiri soup with beans flour?
Yes, I tried it and it very easy to make. Just mix the beans flour with cold water to form  thin paste. Pour into a pot with boiling water, add the palm oil, salt, fermented locust beans and dried prawns. Stir continuously and add more water as it becomes thicker until you have the right consistency.
The gbegiri made from the bean powder had a gel like texture. The starch in the powder became swollen and gelatinized; leading to a cooked starch texture; almost like custard. I prefer the texture of the canned beans as it is closer to the traditional soup texture, but if you only have access to the bean powder; then it is better than nothing.
Can I refrigerate gbegiri?
Yes, you can refrigerate gbegiri for 3-4 days. It becomes quite thick after and you will need to add some water when warming it.
Related Recipes
Other Nigerian soups to try...
Hausa Pumpkin Soup - Miyan Taushe
Ugba (African Oil Bean Seed) Soup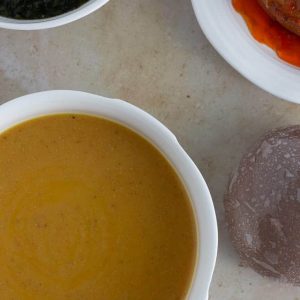 Easy Gbegiri Soup Recipe
Easy Gbegiri soup (Nigerian beans soup) prepared with canned beans is quick to put together and tastes as good as the traditional.
Ingredients
1

can

Haricot or black eye beans

1

tablespoon

Ground dried prawns

1

teaspoon

Fermented locust beans

1

teaspoon

Pepper flakes/ground pepper powder

1

tablespoon

Red palm-oil

1

cube

Bouillon

Salt

to taste
Instructions
Drain the water from the beans and rinse under cold water in a colander.

Pour the beans in a blender or food processor with the locust beans. Add a ½ cup of water and blend until smooth.

Pour into a sauce pan. Add the palm oil, ground prawns, pepper and salt. Mix and cover the pan. Reduce the heat.

Check and stir regularly to prevent sticking.

Leave until the soup is cooked. Total cooking time should not be more than 20 mins.

Remove from heat and serve
Nutrition
Calories:
100
kcal
Carbohydrates:
14
g
Protein:
5
g
Fat:
3
g
Saturated Fat:
1
g
Cholesterol:
6
mg
Sodium:
31
mg
Potassium:
312
mg
Fiber:
3
g
Sugar:
1
g
Vitamin A:
100
IU
Vitamin C:
1
mg
Calcium:
53
mg
Iron:
2
mg