Fermented locust bean is a common traditional condiment in Nigeria and other West African countries. We call it "iru" in Yoruba land; it is called "dawa dawa" in Hausa and "ogiri okpe" in Igbo. It is also known as "afintin" in Benin "sumbala" in Mali & Guinea, "netetou" in Senegal, and "nere" in some parts of Burkina Faso. A lot of traditional stews, sauces and soups will not be complete without this savory condiment.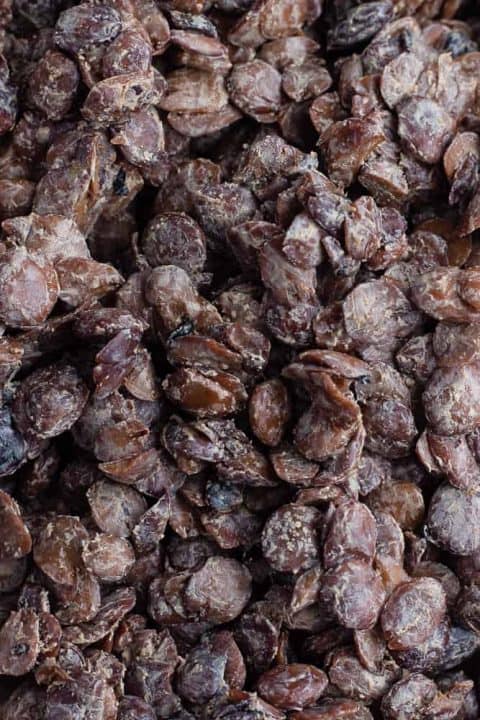 What Is Locust Beans?
Locust beans are seeds obtained from the pods of the African locust tree, Parkia biglobosa, which belongs to the family Mimosaceae. These trees grow in parts of West Africa. African locust bean is sometimes called carob because of their similarities in appearance, but they are different from each other.
Carob comes from Ceratonia siliqua tree, typically found in the Mediterranean. It is also called Mediterranean locust beans, which explains the confusion between the two. Mediterranean and African locust beans are used differently. Mediterranean locust bean pods are dried and processed into carob powder which could be used as an alternative to cocoa powder. Carob bean gum is also used to make thickeners and stabilisers for the Food Industry.
Locust beans tree are important in the regions where they are cultivated. The trees offer shade and fix Nitrogen in the soil. The mature elongated pods contain powdery sweet yellow pulp enclosing the seeds. This pulp is a rich source of nutrients, and the seeds, which are the economically important part, are fermented into the condiment – fermented locust beans/dawadawa.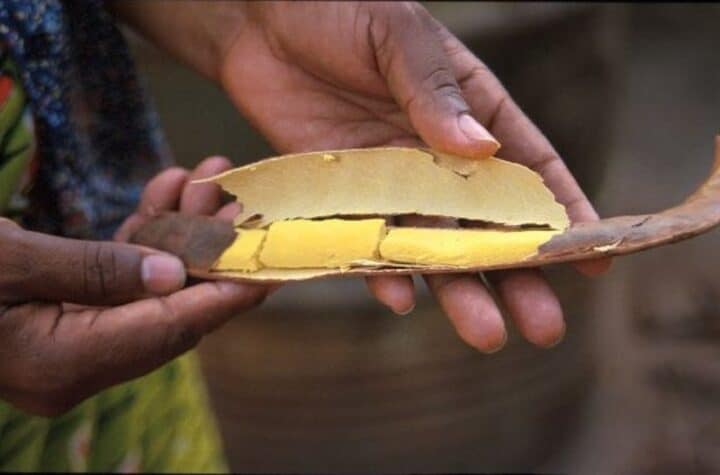 How Is It Processed Into Dawadawa?
The locust bean seed cannot be consumed in its raw state as it is pretty hard. It is processed into locust beans mainly by traditional methods of washing/cooking and fermenting. Here are the steps;
Boil the seed in water for 12-24 hrs to soften the hull.
Dehull by either pounding in a mortar or pressing with the palm (or foot).
Wash to separate the hull from the small brown beans.
Boiling for 1-3 hrs to soften the beans.
Fermentation for 3 days.
Apply salt followed by partial drying in the sun to preserve.
The revered organoleptic properties of this condiment develop during the fermentation stage.
The finished product could be sold fresh or moulded into cakes and dried further. In Yoruba land, there are two types of fermented locust beans; iru; "iru woro" and "iru pete". The difference between the two is the addition of "kuuru", an extract from zobo (Hibiscus sabdariffa) plant during the fermentation of iru pete. As a result, Iru pete has a mushy appearance while the seeds of iru woro are whole and have a bite to it when eaten.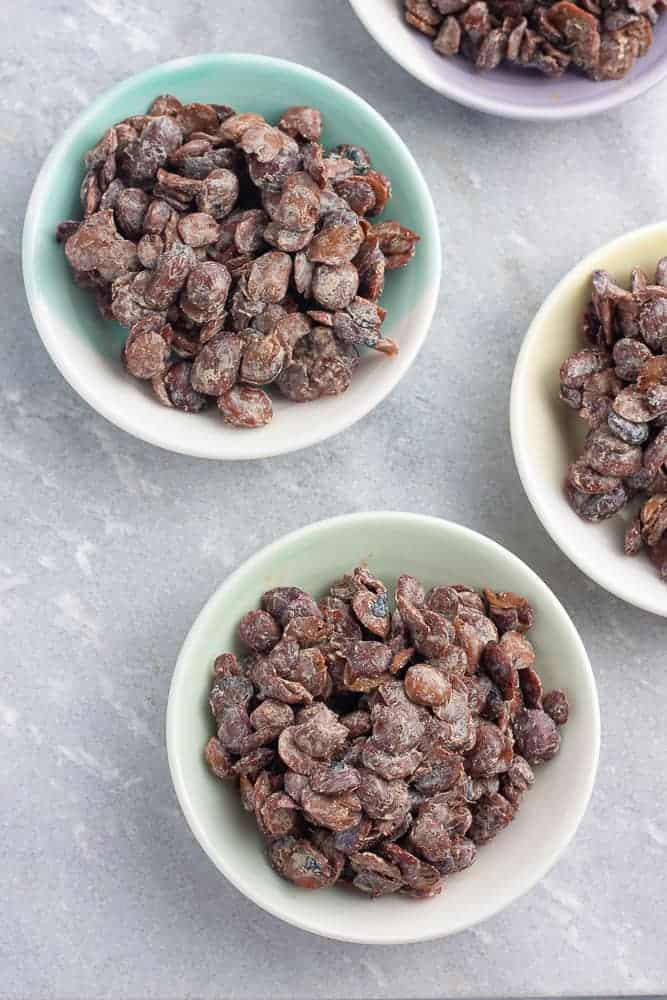 How Is Fermented Locust Beans Used?
Iru (dawa dawa) is used to flavour stews, sauces and other dishes like rice, native salads etc. It was one of the main condiments used in West Africa before bouillon cubes, and it is still an excellent alternative to bouillon cubes because of its nutritional and health benefits. It is high in protein, fats and calcium.
It has a strong taste and pungent aroma, which is not particularly attractive, but in a sauce or stew, the unmistakable earthy umami flavour enhances the taste. A small amount of fermented locust beans in West African dishes like okra soup, ewedu, egusi soup or efo riro, ogbono or soumbala soup delightfully lift the taste.
Fermented locust bean is now available as a dry powder, giving it a longer shelf life and making it easier to package and transport over long distances. It also makes it easy for people who do not like to see or bite into the seed to enjoy the added depth of flavour locust beans adds to food.
It is essential to wash fermented locust beans before use because there may be stone or sand residue from the traditional processing method.
How To Store Fermented Locust Beans
Fermentation not only helps to develop the flavour and aroma of iru (dawa dawa), but it also helps to preserve it. This, coupled with salting and sometimes drying, helps maintain the product's shelf-life without refrigeration in the tropical heat.
Fresh iru can be stored in the fridge for a few weeks and will keep for months in the freezer. Dried Iru will keep in a cool and dry place for months. It should be stored in an air-tight container to stop the smell from taking over the storage area.
Where Can I Find Fermented Locust Beans?
Related Recipe
Here are some fantastic locust beans recipes to inspire you.
Ugba (African oil bean seed) sauce