Jump to Recipe
Get a taste of Jamaica with this delicious salmon Rasta pasta. Rasta pasta is spicy and decadent at the same time from a combination of jerk spices, creamy coconut milk and mixed colour peppers, which will bring the bold flavours of the Caribbean to your table.
Rasta pasta originated from Jamaica. It got its name from the Rastafari movement which has origins in the same country. It is a colourful dish, with enticing colours of green, red and yellow peppers; which are also colours associated with the Rastafarian flag. I would say the Jamaican Rasta pasta sauce is a Caribbean twist on the Italian alfredo sauce.
Rasta pasta started as a vegetarian meal due to its origin, but it can be prepared with the addition of any protein. Shrimp and oxtail are quite popular, but I decided to go with salmon simply because I had some at home. You can add any protein of choice or even skip to make the meal vegetarian.
This salmon Rasta pasta recipe is not only tasty, it is easy to prepare and very nutritious. The peppers are rich in vitamin C; and salmon is a good source of vitamin D. I prefer not to add cheese to my Rasta because I find it overpowers the punchy jerk seasoning taste. Also, the dish starts to taste like pasta cooked in alfredo sauce.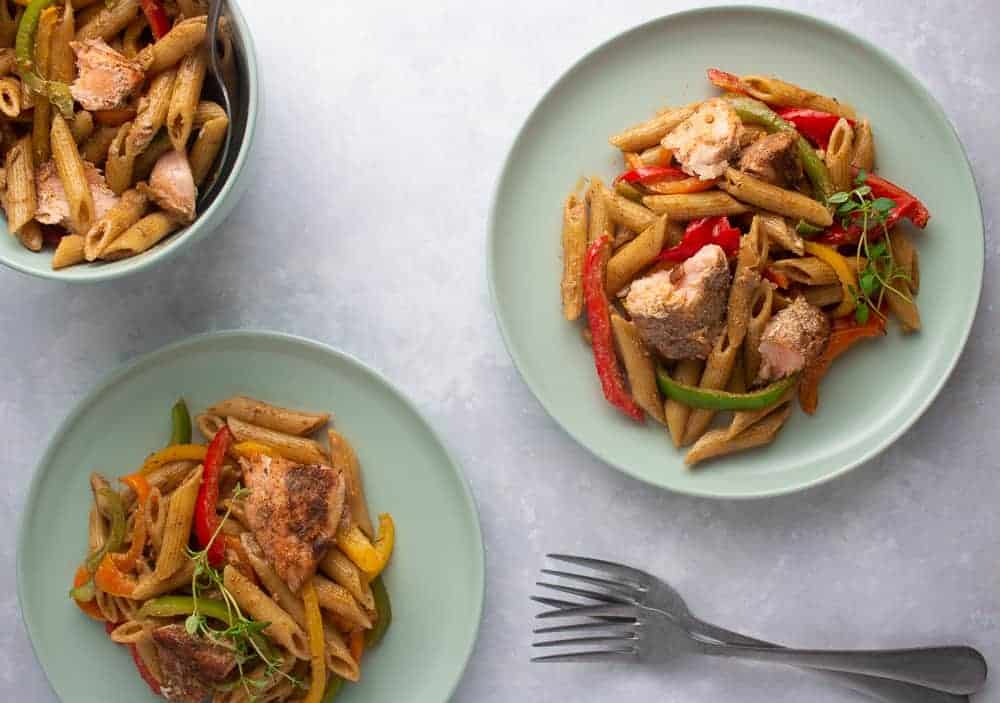 Jamaican Jerk Seasoning
The key to a good Rasta pasta dish is the Jamaican jerk seasoning. Jerk seasoning is one of the signature spice mixes of the Caribbean. I prefer home-made jerk spice mix instead of buying the finished goods because I can add what I like and omit what I do not. For example, I do not like the sweetness of the traditional jerk seasoning, so I omit the sugar.
This works well for me because I keep a variety of spices in my cupboard, and so I had all the component spices to make the jerk seasoning. If this is not the case for you, feel free to buy the ready mix. You can find it on Amazon and the spice aisle in major supermarkets. It is also quite common in Afro-Caribbean and Asian food stores.
How To Prepare Rasta Pasta
You can save time when preparing this salmon Rasta pasta by making the sauce while the pasta is cooking. Feel free to be creative with the vegetables, you can prepare a more nutritious dish by adding other vegetables with the peppers.
This recipe is quite creamy, but if you prefer more liquid in your pasta, which will make it appear creamier, you can increase the coconut milk quantity to 1 cup.
If you like my salmon Rasta pasta recipe, then you must try the Berbere chicken pasta and Cajun shrimp pasta.
Salmon Rasta Pasta
Delicious pasta with salmon cooked in creamy coconut milk and Jamaican jerk seasoning.
Ingredients
Salmon Rasta Pasta
2

cups

Pasta

Penne or a similar size shape

3

tablespoons

Jerk spice seasoning

3

fillets

Salmon

deboned

2

tablespoons

Oil

½

cup

Onion

chopped or ½ medium size

2

cloves

Garlic

1

Green pepper

stalk removed and sliced

1

Red pepper

stalk removed and sliced

1

Yellow pepper

stalk removed and sliced

½

cup

Coconut milk

Salt

to taste
Instructions
Prepare the jerk seasoning by mixing all the spices in a bowl.

Add 2 tablespoons of the spice mix to the salmon in medium size bowl. Add a pinch of salt and toss. Make sure the salmon gets good coverage of the seasoning, then keep to one side.

Cook pasta with some salt, following pack instructions. Rinse with cold water to prevent sticking. Keep to one side.

Heat 2 tablespoons of oil in a saucepan under medium heat.

Add the salmon to the pan and cook on each side for about 3 mins to seal the spices in. The salmon will be partly cooked. Remove from the pan and keep aside.

Add the onion, garlic, and peppers into the pan. Add 1 tablespoon of jerk seasoning and stir for about a minute.

Pour in the coconut milk and the salmon. Cover the pan allow simmer for around 10 mins.

Add the cooked pasta and stir thoroughly. The salmon will break into smaller pieces, but that is alright.

Remove from heat and serve.
Nutrition