Everything tastes better with spices, right? Well, this spiced bulgur wheat porridge is very delicious, filling and wakes you up, so you're ready for a busy day.
Jump to Recipe
Bulgur wheat is so versatile, and makes a great breakfast, it doesn't require a lot of time to cook. You can have it savoury or sweet, you can prepare with any milk of choice; and you can add any fruits or nuts of your choice. This recipe takes that further by adding warm spices like cinnamon and nutmeg, which just lifted the flavour and took it from being an ordinary porridge to "amazing".
Bulgur has a slightly nutty flavour and has been used in Middle Eastern dishes like tabbouleh, for centuries. It is now more widely used in cuisines round the world. It can be used in same way as rice in most dishes, as it absorbs flavours nicely. Its main advantage comes from the fact that it doesn't usually need a long time to cook, sometimes, soaking in hot water is enough to make it edible.
How Bulgur Wheat Is Made
Bulgur wheat is one of the first attempts of man to process and preserve foods and can be traced back to thousands of years ago. It is traditionally produced by parboiling wheat, followed by drying. The bran, which is the outer shell is removed, and the wheat is cracked and sifted into grades depending on the particle sizes. Parboiling inactivates enzymes in the wheat which extends the shelf-life of the end product. https://www.upgrademyfood.com/all-about-bulgur/ has more information about bulgur wheat grades and types, if you would like to learn more.
Bulgur wheat should not be mistaken for cracked wheat. Cracked wheat is not parboiled, so it takes longer to cook than bulgur wheat.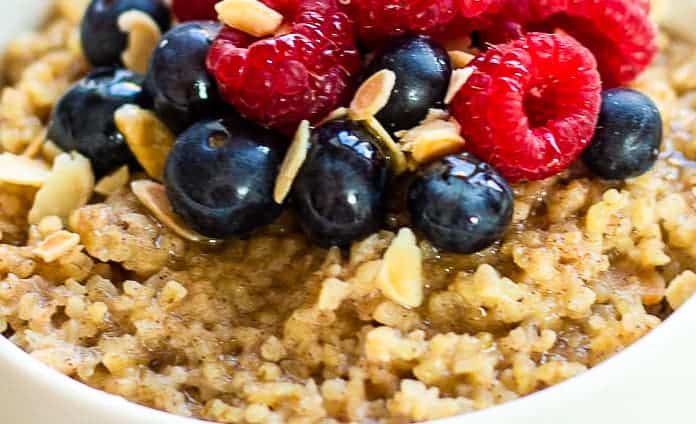 Is Bulgur Wheat Healthy?
Bulgur wheat is richer in fibre, which, makes it more filling. It is also richer in some essential nutrients and minerals because it has not been stripped like processed wheat. In fact, it is regarded as a whole grain by USDA. It has complex carbohydrates, which takes longer to break down, and, so keep blood sugar steady. It has a moderate amount of protein, and is also a good source of iron, B vitamins, potassium and magnesium.
Spiced Bulgur Wheat Porridge
Cinnamon, nutmeg, allspice and all things nice! This delicious spiced bulgur wheat will kick-start your day beautifully.
Ingredients
1 ½

cup

Milk

½

teaspoon

Cinnamon

½

teaspoon

Nutmeg

¼

teaspoon

Allspice

½

cup

Medium bulgur wheat

Flaked almonds

optional – a handful

Berries

optional – a handful

Honey

a drizzle
Instructions
In a saucepan, combine the milk, bulgur wheat, spices and almonds.

Bring the pan to boil, then reduce the heat to low.

Allow to simmer, until the bulgur is cooked. Stir occasionally to prevent burning.

Serve with berries and a drizzle of honey.
Nutrition