Jump to Recipe
If you're looking for a make-ahead dish that could be eaten hot or cold; great for dinner and perfect for packed lunch or picnic the day after; then look no further than this Tunisian chicken tagine.
The Tunisian tagine is not an ordinary egg dish, it is very flavorful with distinct and heady blend of North African spices; just what you need to wake your taste buds up.
When people hear tagine, the thing that comes to mind is the Moroccan dish cooked in a clay pot with domed lid, but the Tunisian tagine locally known as "tajin sibnekh" is totally different. It is an egg dish baked with potatoes, meat, cheese, vegetables, herbs and North African spices, similar to an Italian frittata or Spanish tortilla.
It is usually served as a starter in the region, but it can serve as a complete meal, as it is filling and quite nutritious too. The Tunisian frittata is rich protein and carbohydrates as well as vitamins and minerals from the additional vegetables and herbs.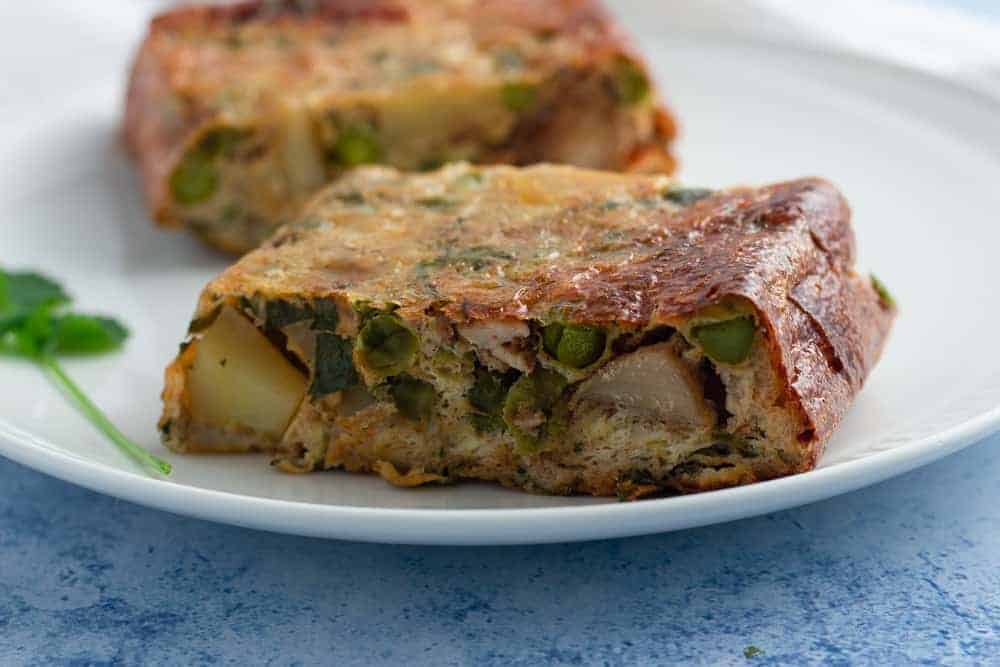 How To Make Tunisian Chicken Tagine
I used a store bought ras el hanout spice mix for this recipe. You can find it on the shelves with other spices in major supermarkets. You can also make your own by following this recipe from BBC Good Food.
Feel free to be creative with the Tunisian tagine. You can add any fish or meat to the dish. You may choose to omit the animal protein to make a vegetarian dish. I added peas, but other vegetables can also go into the Tunisian frittata, similar to the Italian ones. You can eat it hot or cold too.
Want to warm up left-over Tunisian chicken tagine? Be careful with the heat so you're not left with rubbery eggs. Place the tagine in a microwave safe plate and cover with a damp paper towel. Heat it up for not more than 1 minute and enjoy.
Here's another baked egg dish for you try - Sweet potato and salmon frittata.
Tunisian Chicken Tagine
This delicious, nutritious and filling baked egg dish with North African flavours can be eaten hot or cold, and is perfect for any time of the day.
Ingredients
3

tablespoons

Oil

2

Potatoes

peeled and cubed

1

cup

Chopped onions

1

teaspoon

Ras el hanout spice mix

1

teaspoon

Paprika

1

large

Chicken breast

diced

½

cup

Green peas

½

teaspoon

Pepper flakes

6

Eggs

beaten

25

g

Grated cheddar cheese

optional

Fresh Coriander

a few stalks, chopped

Salt

to taste
Instructions
Pre-heat oven to 170 degrees and grease the baking dish.

Heat the oil in a pan and fry the potato cubes until almost cooked.

Add the onions into the pan and cook until translucent.

Add the ras el hanout and paprika.

Pour the diced chicken, some salt and peas into the pan, and allow to cook for a few minutes, then remove from heat and allow to cool.

Beat the eggs in a large mixing bowl with the grated cheddar cheese, pepper flakes and coriander. Stir in the chicken and potato mixture; taste and add some salt to taste if required.

Pour the content of the mixing bowl into the greased baking dish.

Place inside the oven and allow to cook until the centre is set; and the top has a golden-brown appearance. This should take 30-40 mins.

Remove from the oven and serve.
Nutrition