Jump to Recipe
Call it Ayamase jollof or Ayamase concoction rice, whatever you call it, this Ayamase one pot rice with smoked mackerel and prawns is easy to make and bursting with the intense flavours associated with traditional Ayamase sauce.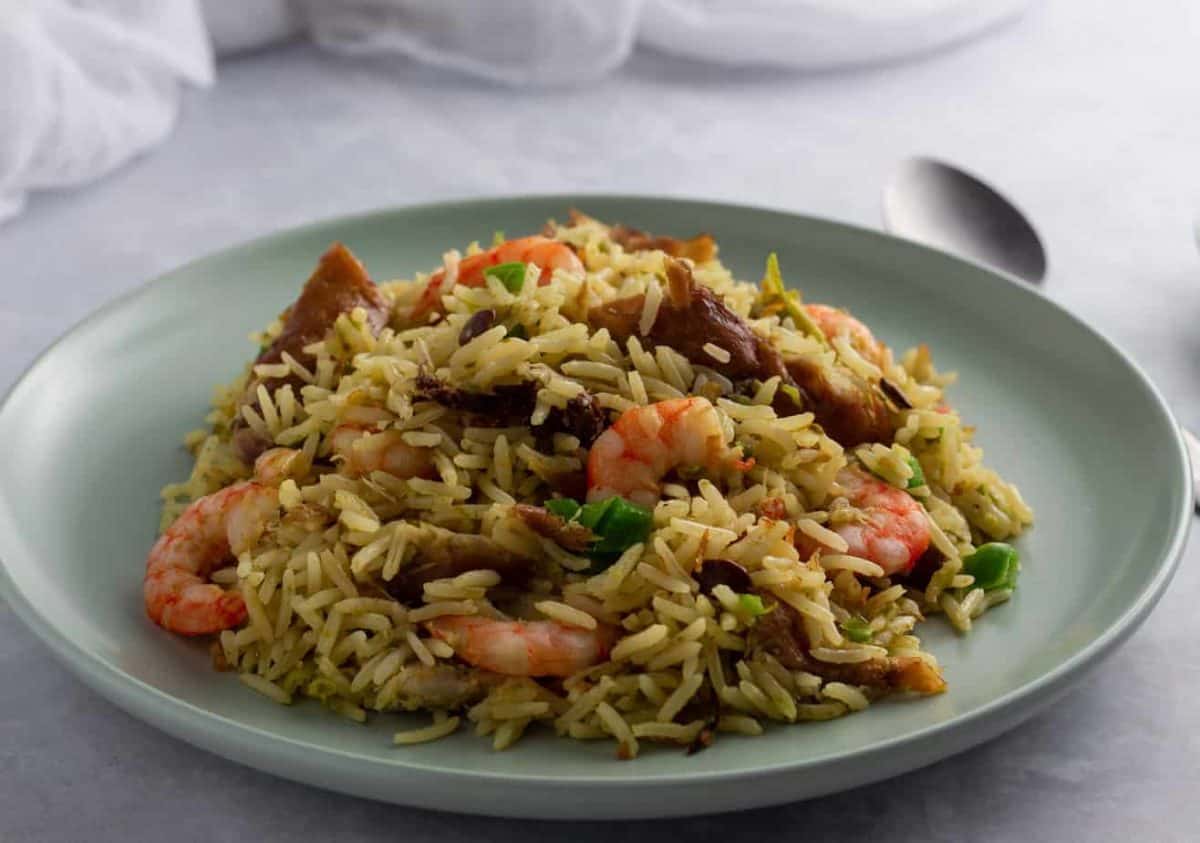 Ayamase sauce, also known as ofada sauce, designer stew or green sauce is prepared by cooking green peppers and chilli in bleached palm oil, with local condiments like locust beans and assorted meat. This spicy and delicious sauce is very common at Nigerian parties; served with ofada rice. My one pot rice recipe is an easy take on this popular party food.
This Ayamase one pot rice is scrumptious and comes together very quickly. It is great for mid-week evenings when you want something nice, but do not have the time for an elaborate meal. For me, it is more like "concoction rice". Concoction rice is a staple of University students in Nigeria. It is a cheap and filling meal of one pot rice cooked with ground pepper, vegetable oil, salt, bouillon cube and whatever protein is available; usually egg.
Traditionally, Ayamase sauce cooks down to a dark green colour, hence why some people call it green sauce. This concoction rice visually, almost looks like the Nigerian fried rice, but the taste is unmistakably Ayamase. The quantity of scotch bonnet is dependent on heat tolerance, you can reduce or increase the quantity, depending on preference.
How To Make Ayamase One Pot Rice
Ayamase is traditionally prepared with assorted meat pieces, but my message with this recipe is that you don't have to do things the traditional way. Cook it the way you like or with what you have in your fridge or cupboard. Use meat, fish or seafood; or even do not add any animal protein to make it suitable for vegetarians. The important thing is that you enjoy your meal.
Finally, one of the things I find daunting is bleaching palm oil in my kitchen without setting off the smoke alarm. This article by Kitchen Butterfly shows how to do this easily
Here are the ingredients you need to make this one pot Nigerian rice dish.
If you like this dish, then you must give these Nigerian rice dishes a try too!
Ayamase One Pot Rice
Ayamase one pot rice with smoked mackerel and prawns is easy to make and bursting with the intense flavours associated with traditional Ayamase sauce.
Ingredients
3

Green Bell pepper

6

Green scotch bonnet

1

Onion

medium

¼

cup

Palm-oil

1

tablespoon

Locust beans

washed

1

tablespoon

Ground Crayfish

optional

½

cup

Prawns

2

fillets

Smoked mackerel

deboned

2

cups

Rice

2

cubes

Bouillon cube

Salt

to taste
Instructions
Wash and remove the stalk from the scotch bonnet and bell pepper. Peel the onion.

Blend the peppers with the onion, coarsely.

Bleach the palm oil in a pan. Allow to cool a bit, then pour in the blended pepper and onion mix

Allow to cook for around 5 minutes, so the flavours can start to develop. Add the crayfish powder and locust beans and leave to cook for a further 5 mins.

Pour in enough water to cook the rice (following pack instructions).

Rinse the rice. Drain, before pouring into the pan.

Add the salt and bouillon cubes. Cover the pan and allow to simmer for about 5 mins.

Add the prawns and smoked mackerel, cover the pan and allow to cook until all the water dries.

Remove from heat.
Nutrition
Calories:
637
kcal
Carbohydrates:
81
g
Protein:
28
g
Fat:
21
g
Saturated Fat:
9
g
Cholesterol:
80
mg
Sodium:
325
mg
Potassium:
661
mg
Fiber:
3
g
Sugar:
4
g
Vitamin A:
383
IU
Vitamin C:
76
mg
Calcium:
84
mg
Iron:
2
mg