Jump to Recipe
Jollof rice is one of the most popular dishes in West Africa. There've been online debates about which tastes better out of Nigerian jollof and Ghanaian jollof (Nigerian jollof of course!), but this is a discussion for another day. If you are a fan of jollof, but not as much the rice; then this jollof bulgur recipe is for you. It is also a way to add another food to your repertoire.
Nigerian Jollof is a celebratory meal in the part of the country that I come from; and no party is complete without the slightly smoky and tantalizing flavours of jollof rice. It is also cooked at home for a treat or when there are guests. The idea behind jollof, which I have simply transferred to bulgur wheat is to steam the grains in a rich tomato and red pepper base sauce with onions and spices, to create an orange colour dish with full-on flavours. This jollof bulgur is just that! It is super-tasty.
Jollof bulgur has the flavours of jollof, but it is quicker to prepare than rice. It is also more nutritious and healthier than jollof prepared with white rice. Bulgur wheat is whole cracked wheat and has not been refined like white rice. It has a higher fibre and essential mineral content; and is also rich in protein. https://eatwellabi.com/spiced-bulgur-porridge/ gives more information about the history and nutritional benefits of bulgur wheat
The first time I prepared jollof bulgur I was unsure how my rice enthusiast family would receive it. I was pleasantly surprised when my kids said they really didn't notice a difference. Bulgur wheat is good at absorbing flavours; and with the jollof, it is not very different to rice, only the grains are smaller.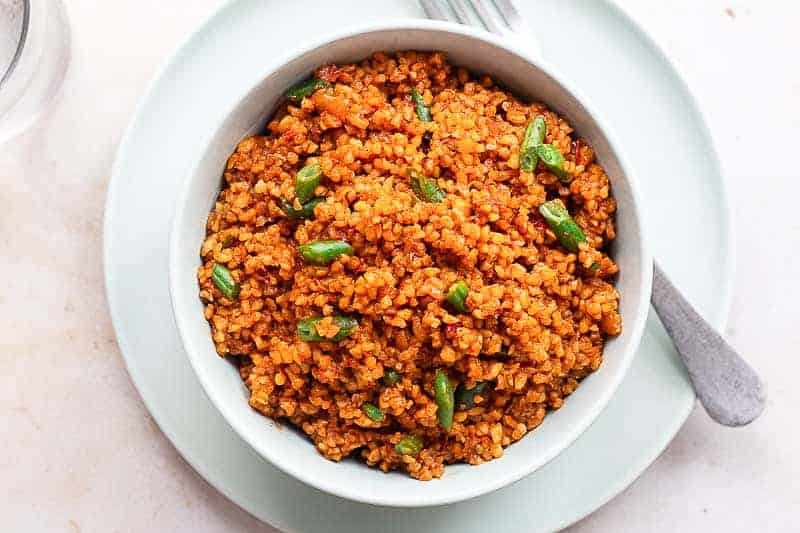 How to Cook Jollof Bulgur
I have prepared the jollof sauce in exactly for bulgur the same way as I would if I were cooking rice. The only difference is that bulgur wheat is cooked in a slightly different way to rice. If you are not a big fan of scotch bonnet, you can leave it out of this recipe
I didn't add any stock cube to this recipe, as I find that the combination of the ingredients with spices and herbs were enough to give the familiar flavours of the dish. A little bit of smoked paprika gave it the much craved "party jollof" taste.
If you're up for other bulgur recipes, then try this; Mediterranean bulgur stir-fry and bulgur wheat porridge.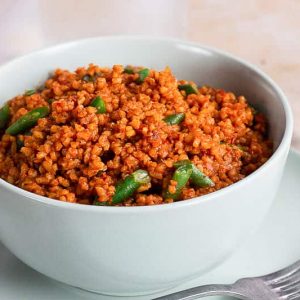 Jollof Bulgur
Jollof bulgur combines the familiar "party" jollof taste with bulgur wheat which is richer in nutrients and minerals than white rice. It is perfect as a yummy main meal or a side dish.
Ingredients
1

Red bell pepper

11/2

cups

Chopped onions

½

Chopped tomatoes

1

Scotch bonnet

small

2

tablespoons

Oil

1

teaspoon

Mild curry powder

1

teaspoon

Smoked paprika

1

teaspoon

Thyme

2

Leaves

Bay leaves

2

tablespoons

Tomato paste

3

cups

Stock

1

cup

Bulgur wheat

Salt

to taste

Runner beans

a handful, chopped
Instructions
Blend the bell pepper, tomatoes, scotch bonnet and 1 cup of onion.

Fry the remaining half cup of onion in the oil until translucent.

Add curry powder, smoked paprika and thyme.

Stir for around 30 secs, then pour in the blended mixture and the bay leaves.

Add the tomato paste and stir the content of the pot with a wooden spoon thoroughly.

Cover the pot and allow the sauce to simmer. The jollof flavour will develop. This should take about 20 mins.

Pour two cups of stock into the pot, mix the content of the pot and allow the liquid to boil.

Add bulgur wheat with some salt to taste.

Reduce the heat, cover the pan and allow the bulgur wheat to steam until the liquid is absorbed.

Check the pot frequently and add more stock if needed.

When the grains are tender, remove the pan from the heat
Nutrition
If you like jollof, you must try;
Vegetarian jollof with mushrooms and spinach