In the Western part of Nigeria, okro is eaten as a soup, which accompanies "okele". Okele refers to a form of stiff porridge typically prepared from ground grains like maize; and root crops like cassava and yam (read more about yam). Okele is a dense form of carbohydrate which is eaten with a soup or stew, prepared with vegetables. On this blog post, I will be sharing a recipe for okro soup with smoked mackerel.
Jump to Recipe
Okro soup is one of the many vegetables soups that is widely paired okele in Nigeria. It is either cooked on its own (ila) or cooked already with sauce and protein in the form of meat or fish (ila asepo/ila alasepo). Ila needs a stew to make a complete accompaniment while ila alasepo is a complete soup on its own. Ila alasepo will be the focus of this post.
Ila asepo is the "no fuss" version of okro soup; it is very quick, and easy to prepare. It is a life saver when you don't have a lot of ingredients at home. All you need to do is buy the okro; then dig into your cupboard for dry ingredients like ground pepper and dried fish to whip up a very tasty soup.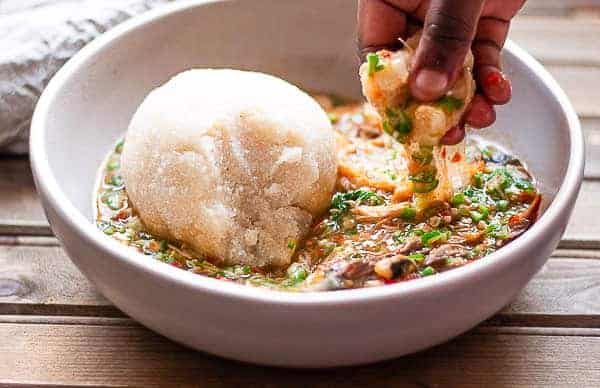 In case, you're not aware, okro when cooked becomes very viscous and "drawy". This mucilaginous property is the reason why it is revered as soup because it makes a great accompaniment to the okele. The skills of winding your hands so that the "slimy"soup does not get everywhere when you are eating is important and passed down from parents to children in my culture.
How To Cook Okro
Okro can be prepared in three ways – blending, grating or chopping with knife. Blending and grating are more convenient; but I prefer chopping with a knife. I like the texture and mouthfeel of the chopped okra because I can bite into the bigger pieces.
You will need two pots in order to get a proper viscous textured okro soup. One to cook the sauce with smoked mackerel, and the other to cook the okro. The two will then come together at the end of cooking
I have used ingredients that are readily available for this okro soup with smoked mackerel to encourage people to try it. Garri is a perfect okele to eat the soup with; and garri is available on the ethnic aisles (African/Caribbean section) of the big supermarket.
I would normally cook this soup with palm oil, but I have used sunflower oil for this recipe for accessibility. You can use palm oil or any other oil that is available to you
Okro Soup with Smoked Mackerel
Super easy and delicious okro soup (ila alasepo) from Nigeria, prepared with smoked mackerel for a mouthwatering taste.
Ingredients
2

Bell pepper

1

Onion

2

cloves

Garlic

1

Ginger

thumb sized

1

tablespoon

Oil

1

cup

Stock

20

fingers

Okro

Tail removed and chopped

2

filltets

Smoked mackerel

deboned

Salt

A dash

Spinach

A handful
Instructions
Sauce with smoked mackerel
Blend pepper, onion, garlic and ginger in a blender.

Pour the oil, the blended mixture and stock into a sauce pan. Cover and allow to cook for 5 mins.

Add the smoked mackerel. Cover and allow to cook for further 5 mins.

Add the spinach and remove from heat.
Okro - Start cooking at the same time as the sauce to save time
Pour the okro in a clean pot with a cup of water to start with (add more water depending on your preferred consistency).

Add a dash of salt.

Allow the content of the pot to cook. Keep the pot open, and stir regularly.

Remove from heat after 7 mins.

Mix the contents of the two pots and add more salt to taste if required.

Serve with your favourite okele.
Nutrition