GET OUT OF BORING MEAL CYCLE...
Nigerian cuisine is varied and vast, with the different ethnic groups contributing distinct flavours and aromas. One of the unifying factors across these ethnic groups are the snacks; which generally appeal to Nigerians, regardless of the part of the country they are from. There are different types of snacks in Nigeria. Some popular ones are chin chin, kuli kuli, kokoro, plantain chips, gurundi, roasted groundnuts and coconut candy.
A common characteristic of these local Nigerian snacks is that they are made with few ingredients and are healthier than highly processed snacks. They are also dry and crunchy from frying in some form of vegetable oil or roasting; you cannot eat these silently without the crack and crunch from chewing. Frying, roasting and drying are perfect forms of preservation as these snacks last a long time at ambient temperature and do not usually require cold storage.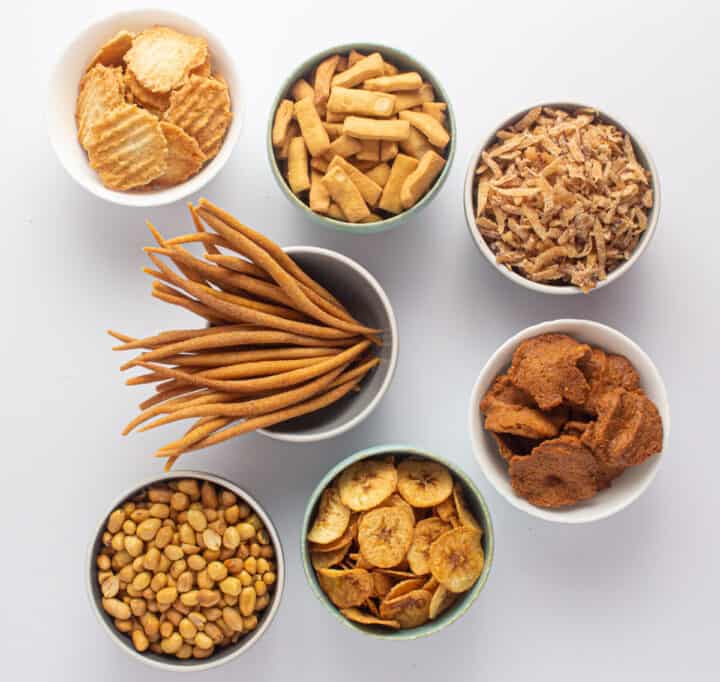 The more traditional Nigerian snacks have been consumed for generations and mainly utilize locally available ingredients like coconuts, groundnuts (peanuts), corn etc. More contemporary ones like chin chin use flour. Whether traditional or modern, these snacks are loved and eaten on different occasions. While I was growing up – we mainly bought them as roadside snacks. Some of the more traditional ones like gurundi, we only ate when my parent travelled to our home town and brought some back with them.
In more recent years, these snacks have become Nigerian party staples where they are served as appetizers or finger foods and referred to as "small chops". For people who live abroad, you can find some of these snacks in West African Grocery Stores, Asian Grocery stores, Amazon and Etsy.
Kokoro
This is one of the most crunchy Nigerian snacks I know – you need a robust set of teeth to eat this one.
Kokokoro is a deep-fried snack made into a stick shape. Corn flour or chaff is the main ingredient, usually with the addition of other ingredients like garri, yam flour etc. These ingredients are made into a paste, mixed with spices, rolled and fried. "Kokoro alata" has peppers added for some heat. This corn flour snack is a typical Nigerian recipe where nothing is left to waste – corn chaff, which is the main ingredient is the residue after starch has been removed from corn to make ogi.
Chin Chin
Nigerian Chin chin is a sweet snack which cuts across the different parts of the country. It is deep-fried dough made of flour, sugar and butter; cut into small shapes. Some add milk and spices as optional ingredients to jazz up the chin chin.
The small size of chin chin makes it easy to snack on. It is one of the top items served as "small chops" at Nigerian parties. Depending on preference and ingredients used, there are different levels of crunchiness to chin chin. I like crunchy ones without being too hard and avoid jaw-breaking ones.
Making chin chin at home takes some time, but it is an excellent family activity. Once the dough is completed, you can get the children to cut and dust with flour while an adult fries. Warm chin chin, with the centre still soft tastes delicious, the chin chin hardens and becomes crunchy as it cools. Here's a recipe for crunchy chin chin.
If you're going to be making chin chin at home, then you need a pizza cutter. It reduces the hassle of cutting the dough with a knife, which is the most strenuous activity when making this popular snack.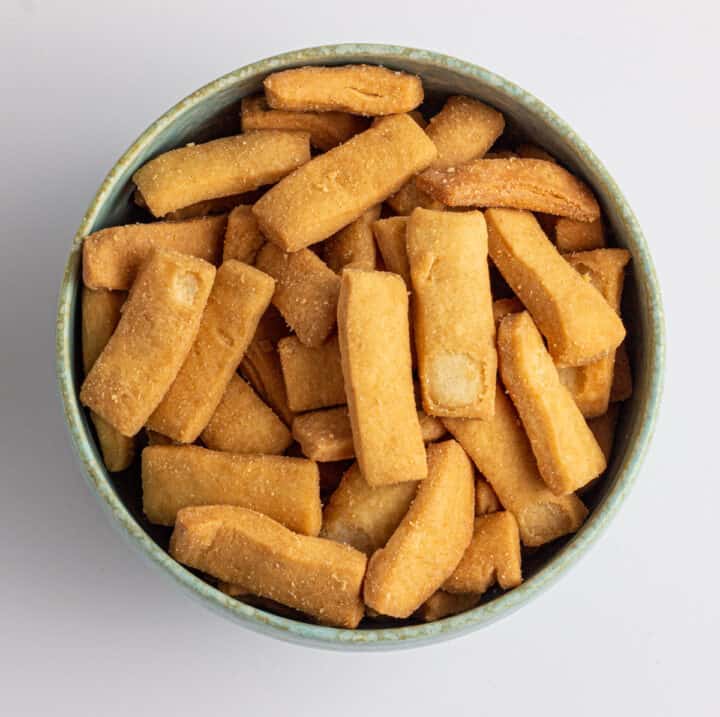 Roasted Groundnut
This is one of the most popular street food in Nigeria. It is a healthy snack of groundnut, dry roasted with salt.
Roasted groundnut (epa, gyada) is the base ingredient for kuli kuli, another popular snack. It can be eaten on its own or soaked with garri. It can also be accompanied with boli (roasted plantain), popcorn or freshly baked bread.
This delicious snack is prepared by roasting the groundnut without its shell in different mediums, including clean sand, ashes, garri, etc to prevent burning. The nuts are then packed in bottles or air-tight containers to maintain freshness.
Kuli Kuli
Kuli kuli is a savoury crunchy snack made from dry roasted groundnut and spices. It originated from the Northern part of Nigeria and is widely eaten across West Africa. To make kuli kuli, dry roasted peanut is ground and the oil squeezed out. The protein-rich residue is mixed with salt and spices, moulded into different shapes and fried in the extracted groundnut oil. In the mantra of "nothing goes to waste", kuli kuli is prepared on a large scale from the residue of groundnut oil extraction.
This groundnut snack is eaten on its own or sometimes with garri or ogi. It is the main ingredient in suya spice and is also used to make "kilishi", a dried beef jerky.
Gurundi/Gurudi
Remember Funtime coconut chips? That was gurundi.
Gurundi is eaten in the South Western parts of Nigeria. It is a baked snack made from ground coconut with cassava or corn flour and sugar. This delicious Nigerian snack looks like a cookie with fork-made patterns at the top. It is both crispy and chewy at the same time and very tasty.
Plantain Chips
This thinly sliced fried plantain eaten across West Africa and the Caribbean is a staple snack in Nigeria. It is also know as ipekere or kpekere. This crispy snack can be sweet or savoury depending on whether ripe or unripe plantain is used
When it is made with unripe plantain – the taste is determined by whether sugar or salt is added; however, if semi-ripe or ripe plantain is used, the sweetness of the plantain comes through and you get a sweet taste.
Plantain chips are traditionally cut into rounds across the width or longer pieces across the length of the plantain, before frying or baking. If you are making your own chips, then a mandoline slicer will come in handy for the slicing.
Coconut Candy
This tasty snack, which we called "coconut" while growing up, is grated coconut cooked in sugar until it caramelizes or crystallizes with a golden-brown colour. It is allowed to cool and harden either as chewy clusters (caramelized) or loose (crystallized). This sweet Nigerian coconut snack is another owanmbe party "small chops" item.