Jump to Recipe
This rice and beans recipe, inspired by Caribbean flavours is a great way to use up left-over rice. It is very easy and quick prepare with canned beans. The use of allspice which is a key flavour of the Caribbean, combined with fragrant thyme and garlic lifts it up from being a way to use up left overs to an amazing tasting dish.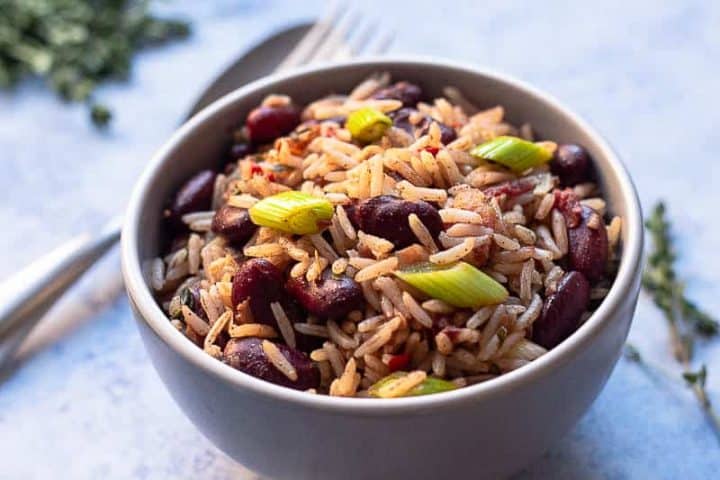 Rice and beans is a much-loved food combination all over the world. We call it "iresi ati ewa" in my language (Yoruba), arroz con frijoles in Spanish, there's waakye in Ghana, rice and peas in Jamaica etc. I'm going to call my recipe, Caribbean inspired rice and kidney beans.
In my household, there's always left-over rice because of how much my husband loves rice. The addition of kidney beans to our left-over rice is for two reasons; to bulk up the rice into a main meal, and to make a more nutritious meal. These are also the two main historical reasons for combining the rice and beans.
In the past, rice used to be more expensive than beans; so, the beans was used to bulk up the rice to make it more filling, but inexpensive. This however is not the case anymore, as rice is now typically cheaper than beans, but the combination is still a favourite.
The other reason for combining beans with rice is nutritional. Both beans and rice are incomplete sources of amino acids; and eating the two complement each other to make a more nutritious meal.
This kidney beans and rice recipe is so easy to throw together and is suitable for vegetarian and vegans. Githeri is another recipe where a grain is combined with beans for an easy, tasty and nutritious meal.
Caribbean Rice and Beans Recipe
I used canned kidney beans for this recipe, but you can use other types of beans. You can also cook your beans from the scratch or use left over beans if you have any. You can also substitute the white rice with brown rice if you prefer.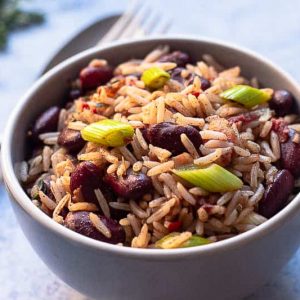 Caribbean Rice and Beans
Quick and delicious rice with kidney beans seasoned with allspice, thyme and garlic for an amazing taste.
Ingredients
2

Tablespoons

Oil

1

Onion

chopped

2

cloves

Garlic

chopped

1

teaspoon

Allspice

1

Chopped pepper

sliced

1

can

Kidney beans

drained and rinsed

1

can

Chopped tomatoes

1

tablespoon

Thyme

chopped

Salt

to taste

2

cups

Cooked rice

2

Spring onions
Instructions
Heat the oil in a pan under medium heat.

Cook the onions in the oil until translucent.

Add the garlic and stir continuously for 30 secs.

Pour in the allspice and stir for another 30 secs.

Add the beans and chopped tomatoes and thyme into the pot.

Allow to cook for around 15 mins or until most of the liquid is absorbed.

Pour in the rice and spring onions and stir properly

Allow the rice to heat through and serve.
Video
Notes
This recipe is perfect way to use up left-over rice.
Nutrition
You must also try;