Jump to Recipe
Although plant-based foods form the base of Nigerian diet, our party foods are heavily meat based; and Ayamase has become a party staple in recent years. Vegetarian Ayamase recipe will give everyone the opportunity to enjoy this delightfully spicy sauce. Serve this dish at your next party to impress your vegetarian/vegan family and friends.
Vegetarian Ayamase stew tastes as flavorful as the traditional dish, with tofu and vegan sausages providing the texture normally associated with it. You can make it at home easily; add it to your list of Vegetarian Nigerian stews as it ticks all the boxes.
What Is Ayamase Stew?
It is a fiery sauce, which is prepared with bleached palm oil and green peppers. Fermented locust beans and other local condiments add a depth of savoury flavour to this sauce. It is typically served with rice and is also known as "Designer stew". Stews and sauce prepared with peppers form the base of a lot Nigerian cooking, but Ayamase sauce's uniqueness comes from the fact that green peppers are used, rather than red peppers.
Ayamase stew is cooked with boiled eggs and an assortment of small pieces of meat (orisirisi), such that you get a piece with each spoonful of rice. This is where it is similar to another sauce called "Ofada", which is also eaten with rice. Although people use the names "Ofada" and "Ayamase" interchangeably; Ofada is prepared with red peppers, while Ayamase is prepared with green peppers.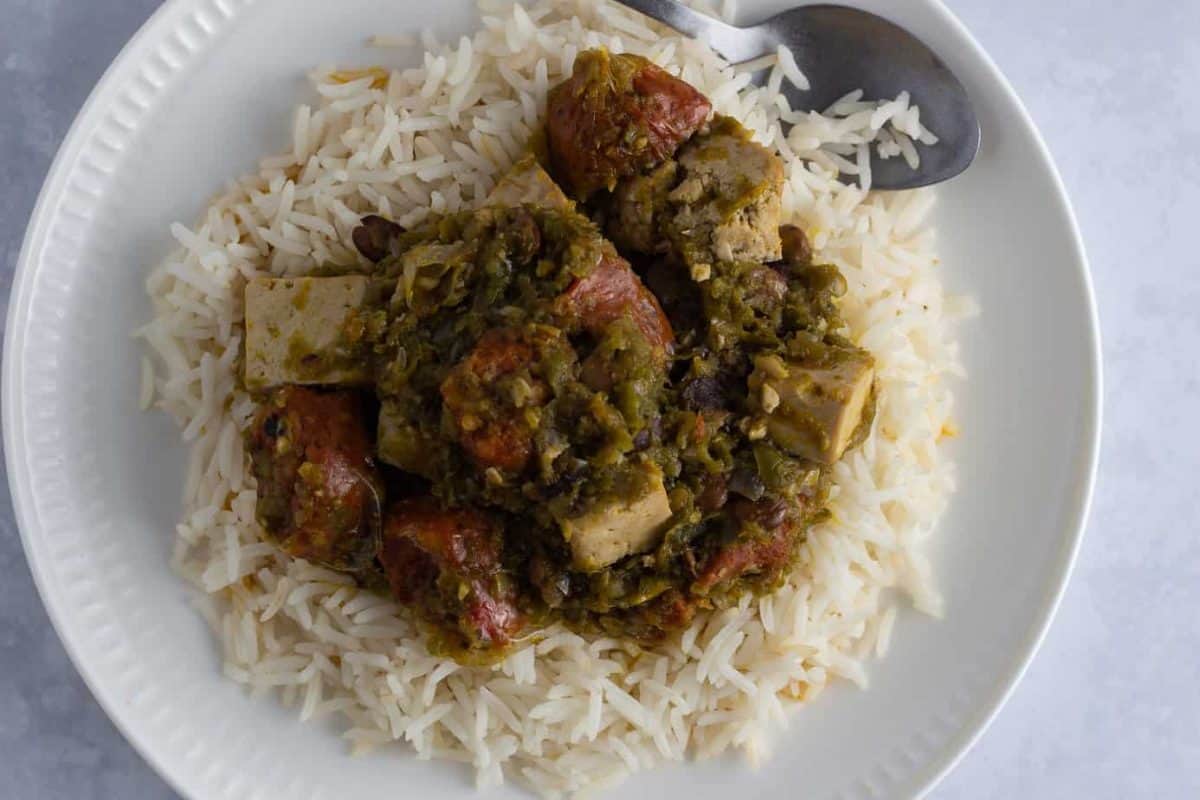 Ayamase is said to have originated from Ogun state in Southwestern Nigeria. However, there are many different stories about where in Ogun state and who cooked this dish for the first time that it is difficult to ascertain the actual origin. What we can all agree on, is that it shows the ingenuity of combining different elements of foods to create a remarkable experience.
I believe this is one stew where bouillon cubes are not required because the combination of local condiments like fermented locust beans and dried crayfish come together to create an umami explosion in the mouth, which is why this stew is so popular.
Ayamase Stew Ingredients
Here is what you need to make vegetarian Ayamase.
Vegetarian Ayamase Stew Recipe
Combine one of the onions, bell peppers, scotch bonnet and garlic in a blender. Blend coarsely so it looks like the picture below.
Pour the green blended mixture in a colander to allow the excess liquid to drain. Ayamase is not a very liquid sauce, so it is important to either sieve out the liquid after blending or pre-cook for some time before adding into the oil to reduce the liquid. I prefer to sieve, as it quicker. Keep the liquid as you may need to add some if the sauce becomes too thick later.
Add the palm-oil into a dry pan under medium heat. Cover the pan and leave to bleach. This should take around 10 mins.
Remove the pan from the hob and allow to cool, without opening the lid. If you open the pot immediately, your kitchen will be covered in smoke.
You can prepare the onions, tofu and sausages while waiting.
You want the colour of the bleached palm-oil to look like below. It is possible to to bleach for longer, but I think 10 mins is adequate to get the smoky flavour associated with Ayamase stew.
After cooling, place the pan back on the hob. Pour the chopped onions in and allow to cook until soft or the colour starts to become golden.
Add the locust beans and stir constantly for 5 mins to prevent sticking to the bottom of the pan. This will allow the flavours to develop and at the point, you should already perceive the signature Ayamase aroma.
Pour the blended green mixture into the pan, add the onion powder, with some salt to taste. Stir thoroughly and cover the pan. Allow to cook for around 15 mins, then add the tofu and the sausages.
Allow to cook for a further 15 mins, by which time the oil should be floating at the top. Remove from heat.
I tried to keep the flavours of my vegetarian Ayamase stew as close to the traditional as possible; and at the end I came to the realization that the flavours associated with this dish traditionally comes from the combination of bleached palm-oil, green peppers, fermented locust beans (iru) and other condiments. The meat and bouillon cube may add to that, but they certainly do not make this dish. This is the reason why the vegetarian version tastes great too.
I included tofu and vegan sausages in this recipe because part of the appeal of Ayamase is having an assortment of meat, which provides different textures. These are optional and you should not stress if you don't have access have them. For those who have access to "awara", it is same as tofu and will work as well.
The stew is traditionally spicy, but you can adapt to suit your taste by adjusting the quantity of scotch bonnet peppers
Vegetarian Ayamase Stew
Vegetarian Ayamase stew tastes as flavorful as the traditional dish, with tofu and vegan sausages serving as protein while providing texture.
Ingredients
4

Green bell pepper

6

Green scotch bonnet

2

Onions

3

cloves

Garlic

1

tablespoon

Onion powder

2

tablespoons

Fermented locust beans

Iru, dawadawa

Salt

1

cup

Palm Oil

250

g

Tofu

pressed and cut into cubes

4

pieces

Vegan sausages

cut into chunks
Instructions
Blend the bell peppers, scotch bonnet, garlic and one onion coarsely.

Pour the blended liquid in a colander. Keep aside to allow the excess liquid to drain.

Pour the palm oil in a pan under medium heat. Cover the pan and allow the oil to bleach for 10 mins.

Turn off the heat and allow the oil to cool. Do not open the pan at this time as your kitchen will be filled with smoke. This should take between 7-10 mins.

Chop the remaining onion. Cut the tofu and sausages into chunks.

Put the pan back on heat and add the chopped onion. Fry the onions until the colour starts to become golden, then pour in the locust beans. Allow to cook for 5 mins, stirring constantly to prevent sticking to the bottom of the pan.

Pour in the green blended mix, add the onion powder and some salt. Stir well and cover the pan.

Allow to cook for around 15 before stirring in the tofu and sausages. Allow to cook for another 15 mins.

Remove from heat and serve with rice.
Nutrition
Calories:
296
kcal
Carbohydrates:
8
g
Protein:
4
g
Fat:
29
g
Saturated Fat:
14
g
Sodium:
11
mg
Potassium:
182
mg
Fiber:
2
g
Sugar:
3
g
Vitamin A:
292
IU
Vitamin C:
61
mg
Calcium:
58
mg
Iron:
1
mg
If you liked this Vegetarian Ayamase recipe, then you must also try these vegetarian Nigerian dishes.