Jump to Recipe
This delicious Nigerian eggplant stew makes me feel nostalgic! It reminds me of growing up in Nigeria, eating big green African eggplants (also called garden egg) which I loved; and making stew with what we had left to serve with boiled yam. Now, there is no African green eggplant available for me to buy; but there is aubergine; which unfortunately I can't enjoy raw, but still makes a good substitute for African eggplant in the stew. Also, aubergine does not have as many seeds as the African eggplant, which gives the stew a slightly different texture.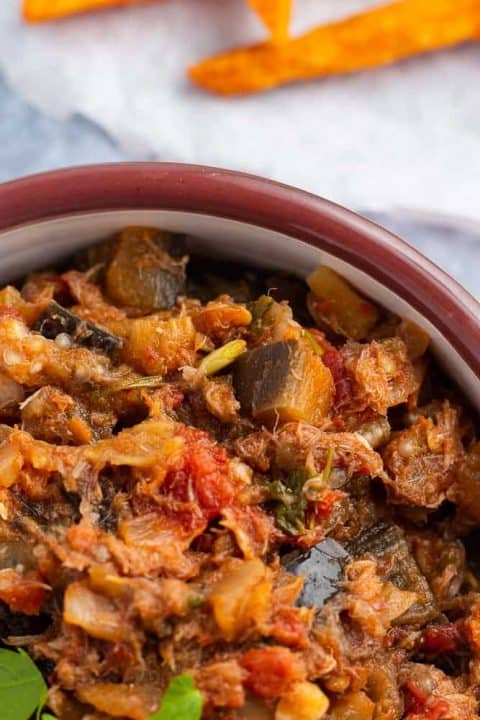 My eggplant stew was prepared with Aubergine. Aubergine is what the purple colour egg shaped fruit is called in UK, and wider Europe; but in the US, it is called eggplant. For this blog post, I will stick with the word "eggplant" for consistency.
As child, we only ever ate eggplant stew with yam, but I now use it as a sauce for a lot of things. It is great with chips, on rice or pasta; and sometimes, I even eat it as soup. The tender texture of the cooked eggplant absorbs flavours and oils which makes it a very versatile food ingredient. It also doesn't take long to cook too, which is an added advantage.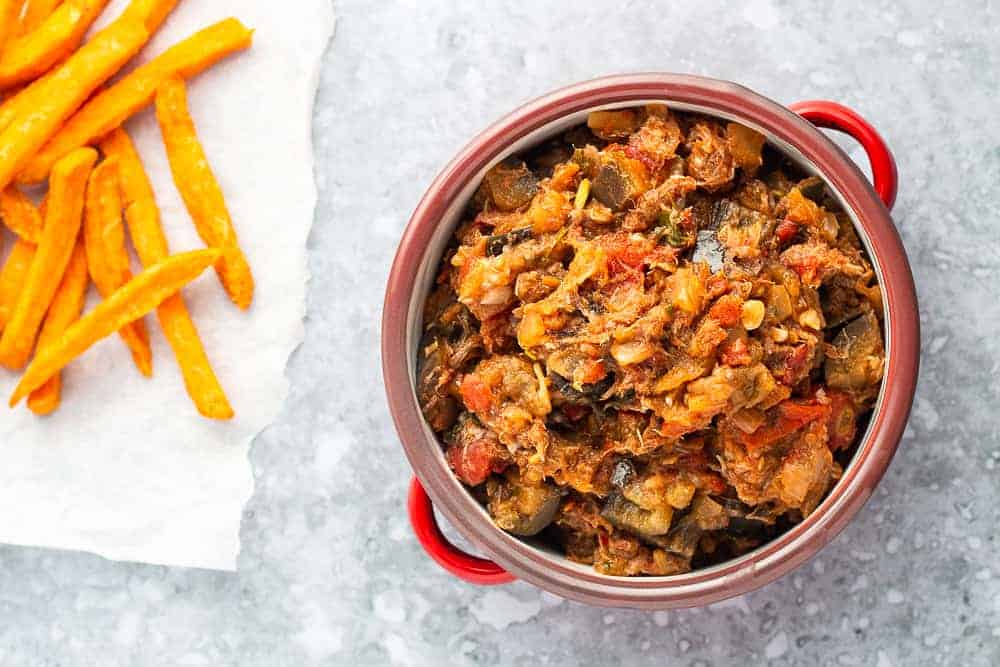 How To Prepare Nigerian Eggplant Stew
Nigerian eggplant stew is super tasty, easy to prepare and does not require a blender. I boiled the aubergine for a few minutes before adding to the stew; if you have an oven; and you have a bit more time, you can roast the chopped aubergine in the oven for around 30 mins instead for a more intense taste.
Some people recommend that the skin of the eggplant should be peeled to reduce bitterness. I found that it is not necessary because eggplants have now been bred to have less bitter skin, and I always cook it with the skin. However, if you know that the eggplant available to you is likely to have bitter skin, then you must peel before cooking.
My eggplant stew recipe includes smoked mackerel which adds a depth to the amazing flavour of this dish; and makes it more nutritious.
If you are looking for other delicious, Nigerian inspired recipes, then you must check out my e-book - 25 From 30. Here, I created 25 tasty original recipes with 30 ingredients, most of which you will find in a Nigerian kitchen like yam, beans, rice, plantain etc.
You must also try these amazing Nigerian recipes;
Nigerian Eggplant Stew
Super tasty eggplant stew with smoked mackerel is a Nigerian recipe which is perfect as an accompaniment, a side dish, or on it own.
Ingredients
2

Aubergine/Eggplant

2

tablespoons

Oil

½

cup

Chopped Onion

2

cloves

Garlic

chopped

1

teaspoon

Smoked paprika

½

teaspoon

Chilli flakes

½

can

Chopped tomatoes

2

fillets

Smoked mackerel

flaked and deboned

Salt

to taste

1

tablespoon

Chopped parsley
Instructions
Remove the stem, wash and cut the aubergine/eggplant into smaller pieces.

Cook the aubergine in salted boiling water in a pot for 5 mins.

Drain the water and keep aside as it will be used for the stew.

Mash the eggplant with a potato masher or fork.

Meanwhile, heat oil in a pan.

Add the onions and cook until translucent.

Pour in the garlic and smoked paprika and stir for around 30 secs.

Add the chilli flakes, followed by the chopped tomatoes.

Add ½ cup of the water used to cook the eggplant.

Cover the pan and allow to cook for about 10 mins.

Open the pan and pour in the mashed eggplant and smoked mackerel.

Allow to cook for 5 mins, then check for salt before adding more in, if required

Add the parsley, stir properly and remove from heat.
Nutrition