Jump to Recipe
Irio originates from the Kikuyu and Meru tribes in Kenya, and simply means "food". It used to be the main dish at mealtimes. There are so many variations of this dish; and it is sometimes called "mukimo", which means "mashed food". This Kenyan irio with caramelised onions is super tasty and very easy to prepare. The addition of caramelised onions lifts the flavour greatly; taking it from simple to amazing.
Kenyan irio is a simple meal of potatoes mashed with corn and green peas, sometimes with green vegetables like spinach for extra nutrients. Traditionally, dried green peas is used; which would be soaked beforehand. Some recipes also use red kidney beans instead of green peas.
Whichever way you prefer your irio or mukimo, it doesn't take away from the fact that this simple meal is comforting and filling as well. Our ancestors have always been clever at combining foods to maximise satiety and nutrient intake; and irio is no exception to this. It is a filling meal; typically dipped in stews or eaten with roasted meat. Githeri is another filling and nutritious dish from the Kikuyus in Kenya.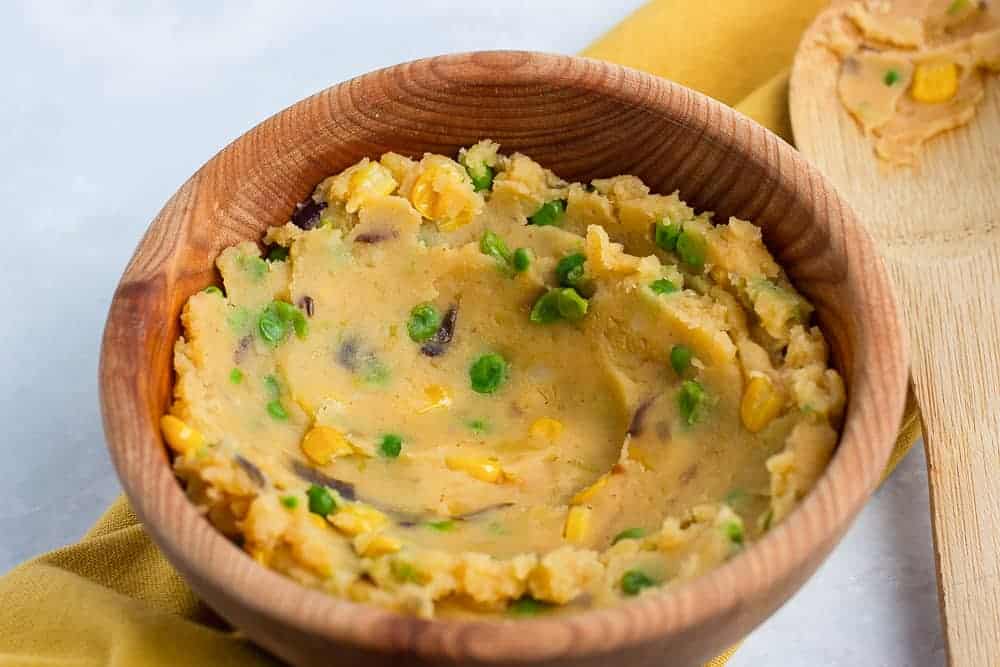 How to Prepare Irio with Caramelised onions
In traditional irio recipes, the corn and peas are cooked until nearly soft; then the potatoes added, but there is no need for that as we will use frozen peas and sweetcorn; which only need a few minutes to cook.
Most irio recipes include fried onions, but I have taken it further by caramelising the onions for additional crunch and sweetness. Caramelising the onion will not add too much to the cooking time; but will add tons of flavour. Prepare the potatoes at the early stages of caramelising the onions (around the first 10 minutes when you don't need to stir often). By the time the onions are caramelised; the potatoes will be cooked and ready too.
Do not be tempted to increase the heat to make the caramelising faster, the onions will burn, and develop a bitter taste.
Kenyan Irio With Caramelised Onions
Irio is a simple. comforting, filling and nutritious meal from Kenya.
Ingredients
3

tablespoons

Oil

2

medium

Onions

sliced thinly

5

pieces

Potatoes

washed and peeled

1

cup

Frozen green peas

1

cup

Frozen sweet corn

Salt

to taste
Instructions
Caramelised Onions
Allow oil to heat up in a non-stick pan, then lower the heat.

Pour the onions in, spread out evenly and add some salt.

Stir every few minutes to prevent sticking or burning. Do this for around 15 minutes.

Then stir even more often for the next 10-15 minutes; until you have a soft, slightly crispy onions with rich brown colour.

In the first 15 mins of caramelising the onions, prepare the potatoes to save some time.
Irio
Wash and peel the potatoes.

Cut into smaller pieces, and cook with a pinch of salt.

When the potato is ready, drain and keep the liquid aside.

Toss the frozen peas and sweetcorn in a colander; and run under water to defrost.

Keep in the colander and allow the liquid to drain.

There should now be a pan with caramelised onions. Add the peas and sweetcorn into this pan.

Add the paprika and stir for a few minutes to allow the peas and sweetcorn to cook.

Add the cooked potatoes into the pan stir thoroughly.

Mash the content of the pot with a potato masher or a wooden spoon. Add some of the reserved liquid from the potatoes if you prefer a softer texture.

Serve with your favourite stew, vegetables or meat.
Nutrition
Other East African dishes to try - Kuku paka (chicken curry), Matoke with beans, Kachumbari (Tomato salad)