Jump to Recipe
I've been travelling for work lately, and sheet pan dinners have been a kitchen life saver! This harissa plantain and fish sheet pan has quickly become one of my favourites. What makes this dish great is the harissa spice. The complex flavours of this fiery North African spice blend work very well with the sweetness of the plantain and peppers and just takes the flavours of this simple sheet pan dinner up a notch.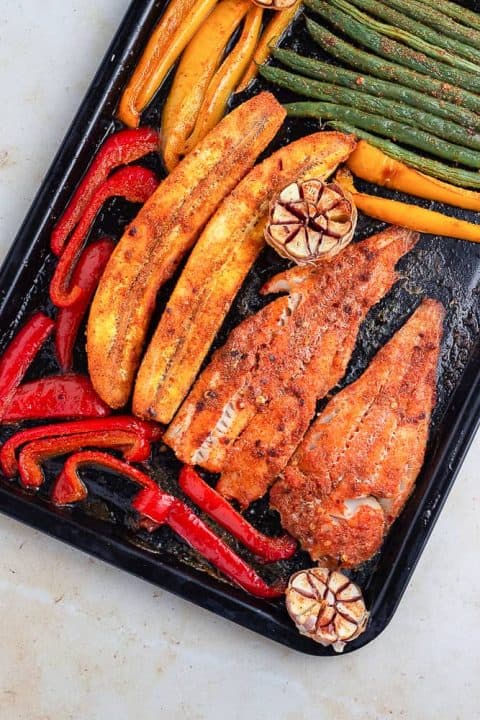 Plantain belongs to the same family as banana, but it is usually, bigger and starchier, with a thicker skin. Unlike banana, plantain is cooked in some form before eating; as it doesn't taste pleasant raw. It is a staple food in Africa and the Caribbean and can be prepared in many ways; boiled, fried, roasted, grilled, pounded; whatever way you can imagine. If you are looking for plantain recipes, why not try this plantain boat with refried beans for a scrumptious meal.
Roasted plantain with fish is a favourite dish in Nigeria anyway, so why not make it simple by chucking all the ingredients on a pan, with home-made harissa spice mix; and place in the oven! Voila! I had a super delicious harissa and plantain sheet pan meal.
What Is Harissa?
Harissa is an aromatic, peppery spice mix which originated from North Africa and is used a lot in Tunisian and Moroccan cooking. It is a mixture of chilli and aromatic spices like garlic, cumin, coriander and caraway etc. The mixture depends on individual taste and it usually comes in a paste or dry form. This versatile spice is used in the same as sriracha or other chilli-based condiments. It is great as a marinade, stirred into sauces or soups; as a dip; whatever catches your fancy really.
I used spices that I already had in my cupboard to make my home-made harissa powder. I just added some oil at the end to get a paste to make marinating the plantain, fish and vegetables easy. If you don't want to make your own harissa spice blend, it is available in the grocery store in both formats. Here is a link to both on Amazon - Harissa paste, Harissa dry spice mix.
The taste of harissa depends on the ingredients used based on personal preference. It could be smoky or sharp from the additions of lemon. I went for smoky, by adding smoked paprika to the spice mix.
How To Make Harissa Plantain And Fish Sheet Pan
Like most sheet pan meal, this plantain and fish recipe is quick, with no fuss, but absolutely delicious. It is important to oil the sheet pan to prevent the ingredients from sticking.
One tip about cooking fish sheet pan is to use vegetables which will cook at about the same time as the fish, so it doesn't overcook. If you don't do theat, then place the vegetables in the oven before adding the fish to the pan. Any white fish would do for this recipe. I used frozen haddock fillets for mine.
Home-made harissa powder will keep for many months in an air-tight container. Keep the mixture dry, and add oil, if required; at the point of use.
If you find it tricky to peel a plantain for the first time, this article explains how to do it.
If you are up for another sheet pan meal idea, then you must try this South Asian inspired fish sheet pan and Chicken suya traybake.
Harissa Plantain and Fish Sheet Pan
Scrumptious and very easy sheet pan dinner of plantain and fish baked in harissa spice.
Ingredients
1

tablespoon

Smoked paprika

1

tablespoon

Garlic powder

½

teaspoon

Chilli flakes

½

teaspoon

Ground cumin

1

teaspoon

Ground coriander

2

tablespoons

Extra virgin olive oil

Salt

to taste

1

Plantain

2

fillets

White fish

any

1

handful

Green beans

2

Peppers

sliced
Instructions
Home-made Harissa Recipe
Add the smoked paprika, garlic powder, chilli flakes, cumin and coriander in a bowl.

Add a pinch of salt and the olive oil.

Mix all the ingredients together properly.
Harissa Plantain and Fish Sheet Pan
Preheat the oven to 200 degrees centigrade.

Coat the baking pan with some oil.

Cut off the ends of the plantain, and make a cut into the skin with a knife.

Remove the skin and cut the plantain into two – lengthwise.

Toss the plantain, fish fillets and vegetables in the harissa spice blend and arrange on the baking pan.

Place in the oven for 15 minutes.
Nutrition