Jump to Recipe
Chicken is cooked in spiced coconut sauce to make Kuku paka, a rich and creamy curry which is popular in the coastal regions of East Africa, particularly Kenya and Tanzania. Kuku paka, is a shortened word for "Kuku wa paka" or "Kuku ya Paka"; and is basically coconut chicken curry.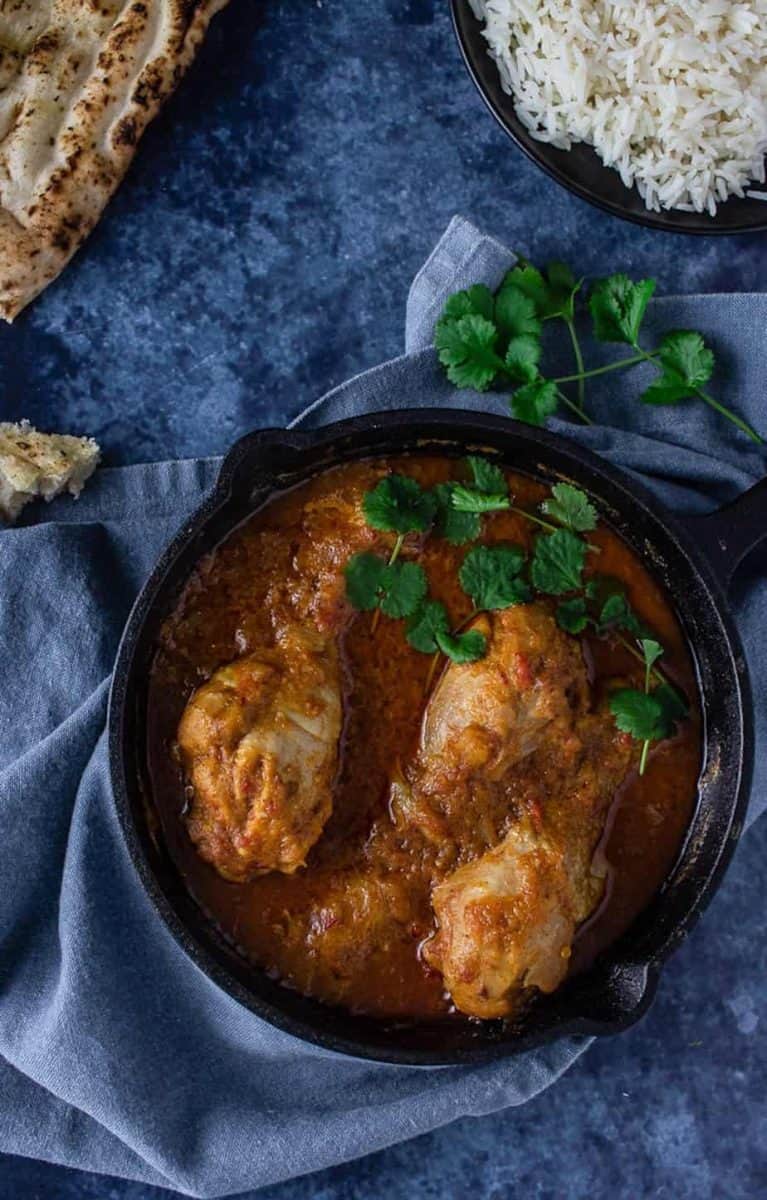 This East African chicken curry is not too far off from an Indian curry and it shows the influences of Indians on East African cuisine.
Traditionally, the chicken used for Kuku paka is cooked slowly over the smoke pit or on the barbecue.  This is a one pot version, which makes it easy to enjoy this delicious and comforting meal quickly. The creaminess and slight sweetness of the coconut milk work well with the spicy marinated chicken to give full-on flavor in this East African style curry.
What Do You Need?
A few things to note about the ingredients;
Scotch bonnet: This is my go-to hot pepper as I always have some in my freezer. You can substitute with other hot peppers. Kuku paka is typically a spicy curry, but you can adapt the pepper quantity to suit your taste.
Chicken: You can replace chicken tights with chicken breasts. If you have some time, you can grill in the oven before cooking to get some brown colour and smoky flavour.
How To Make Kuku Paka
Like most recipes, this coconut chicken curry is quite adaptable. Some recipes include boiled eggs, potatoes, and other vegetables. I have kept mine simple with just chicken, but feel free to include vegetables when you make yours.
It is important to slash the chicken before marinating so it can take up the spicy and aromatic flavours quickly. Garnish Kuku paka with coriander leaves and serve with your favourite flat bread or rice.
Kuku Paka Recipe
Delicious, one pot coconut chicken curry which originated from coastal regions of East Africa.
Ingredients
2

Onions

medium size

3

cm

Ginger

or thumb size

3

cloves

Garlic

1

Scotch bonnet

1

tablespoon

Mild curry powder

1

teaspoon

Coriander

4

legs

Chicken

2

tablespoons

Oil

½

can

Chopped tomatoes

or 2 beef tomatoes, chopped

½

can

Coconut milk

or 200ml

Salt

to taste
Instructions
Blend one onion, ginger, garlic, scotch bonnet pepper, coriander powder and turmeric into a paste in a food processor.

Slash the chicken. Make around 3 slashes in which ever direction you prefer on each side. Rub some salt all over the chicken and place in a bowl.

Pour the the blended paste over the chicken and mix thoroughly with your hands. Keep aside to marinate for 20 mins.

While the chicken is marinating; chop the remaining onion finely.

Heat the oil in a saucepan under medium heat.

Add the onions into the pan and cook until soft and translucent.

Remove the chicken pieces from the paste and add into the pan. Sear on each side to brown.

Add the left over paste into the pan, add the coconut milk and a little salt to taste.

Cover the pan. Allow sauce to cook and the flavors to develop. This should take around 20 mins but is dependent on whether you are using soft or hard chicken. Hard chicken will take longer to cook properly.

Remove from heat and serve with coriander garnish.
Nutrition
Calories:
474
kcal
Carbohydrates:
11
g
Protein:
23
g
Fat:
38
g
Saturated Fat:
15
g
Trans Fat:
1
g
Cholesterol:
120
mg
Sodium:
192
mg
Potassium:
598
mg
Fiber:
2
g
Sugar:
4
g
Vitamin A:
220
IU
Vitamin C:
14
mg
Calcium:
61
mg
Iron:
4
mg
If you are interested in East African recipes; you must check these out;
Kachumbari - East African Tomato Salad